After WhatsApp refused to cooperate with a criminal investigation, a judge in Sao Paulo ordered the suspension of Facebook Inc.'s WhatsApp throughout the entire county of Brazil for 48 hours, starting yesterday,
The court said that the decision was made amid a criminal procedure, but didn't provide more details, saying the case is under seal.
There was the moaning and the groaning and the weeping and the gnashing of teeth, since
WhatsApp is hugely popular in Brazil, where roughly half of the country's 200 million people use its free text and voice messaging functions regularly. Many poorer Brazilians depend exclusively on WhatsApp for their day-to-day communications. It was the most downloaded app last year, in the world's fourth-largest smartphone market. According to Facebook, more than 100 million Brazilians use WhatsApp.
If nobody's happy, Zuckerberg ain't happy, either,
"This is a sad day for Brazil. Until today, Brazil has been an ally in creating an open Internet," Facebook Chief Executive Mark Zuckerberg said in a post on his Facebook page. "I am stunned that our efforts to protect people's data would result in such an extreme decision by a single judge to punish every person in Brazil who uses WhatsApp. We hope the Brazilian courts quickly reverse course."
And, of course, for every action, there is an equal and opposite reaction:
Over 500.000 users from Brazil signed up for Telegram within the last three hours.

— Telegram Messenger (@telegram) December 17, 2015
UPDATE,
#Nessas48HorasEuVou (#InThese48HoursIWill) "Sit at the table and talk to the staff who live here. I think they may be my family."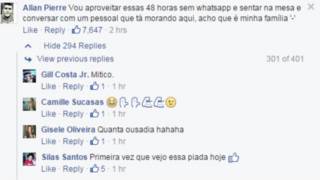 UPDATE 2: It's up!
A judge in Brazil has ordered that a suspension of the popular messaging application WhatsApp be lifted.
You may now come back from the island, dude,
"#InThese48HoursIWill feel like Tom Hanks"
#Nessas48HorasEuVou me sentir com o Tom Hanks… pic.twitter.com/UQXYukb50j

— Antissocial (@OsAntissociais) December 17, 2015