In case you don't remember the name, Wang Jing is the chairman of Xinwei Telecom Enterprise Group, who made a $300million telecommunications deal last year with Daniel Ortega. He also heads HK Nicaragua Canal Development Investment Co., the company behind the proposed Nicaraguan Canal, that project of Dubious Plans and Abundant Unknowns.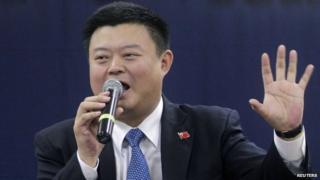 Wang is the year's worst-performing billionaire:
This Chinese Billionaire Has Lost More Than Glasenberg in 2015 (h/t JC)
Telecommunications entrepreneur Wang Jing, 42, was one of the world's 200 richest people with $10.2 billion at the peak of the Chinese markets in June, according to the Bloomberg Billionaires Index. His net worth has since fallen to $1.1 billion.
Oops!
HKND Group, Wang's closely held development company, was awarded a 50-year concession for the 170-mile (274 kilometer) canal by the government of President Daniel Ortega in 2013. The billionaire said in a December 2014 televised press conference in Nicaragua that he was committing personal funds to the project, and he's poured about $500 million of his own money into it so far, Peng Guowei, an executive vice president at HKND, told Chinese state media Xinhua on Sept. 7.

Turn of Fortune
"The turn of fortune in Mr. Wang's financial resources will impact how and whether the canal can and will be built," said Daniel Wagner, CEO of Country Risk Solutions and a former country risk manager at General Electric Co. "I would expect, given this year's financial gyrations in China, that the government is also asking itself whether the canal is a viable proposition."

The company said that despite the economic setbacks and local protests against the canal's construction, the project is moving forward. "I have no doubt that appropriate financial arrangements will be in place before construction commences," Bill Wild, HKND's chief adviser for the canal, said in an e-mailed response to questions. Company representatives for Xinwei declined to comment on Wang's personal investments and declined a request for an interview with Wang.

A September e-mail from closely held HKND said the funds raised from the pledged Xinwei shares were used for Wang's "personal investments" and not for the canal project, without elaborating. Wang is also funding unrelated projects — in some cases with partners — including a deep water port in Ukraine.
As I have been saying from the start, the canal project (if you can find it) cannot come about without major support from the Chinese government.