Humberto de la Calle, the Colombian government's chief negotiator in the FARC "peace" talks, has an article in the WSJ,
Ending Colombia's Guerrilla War, Securing the Peace. Our government will hold FARC fighters responsible for their crimes. Honoring victims' rights is essential.He states,
The negotiations have been transparent, honest and conducted in front of the Colombian people and the international community.
De la Calle is missing the bare essentials: In the spirit of transparency, I urge my readers to send me links to any drafts of the agreement(s) so far, since I have not been able to find any. There have been press releases and communiqués, but no releases of the actual agreement(s) to be signed that can be found.
In other Colombia news, exhibitionists got up early on Sunday morning to let it all hang out in front of Bogota's city hall and the cathedral,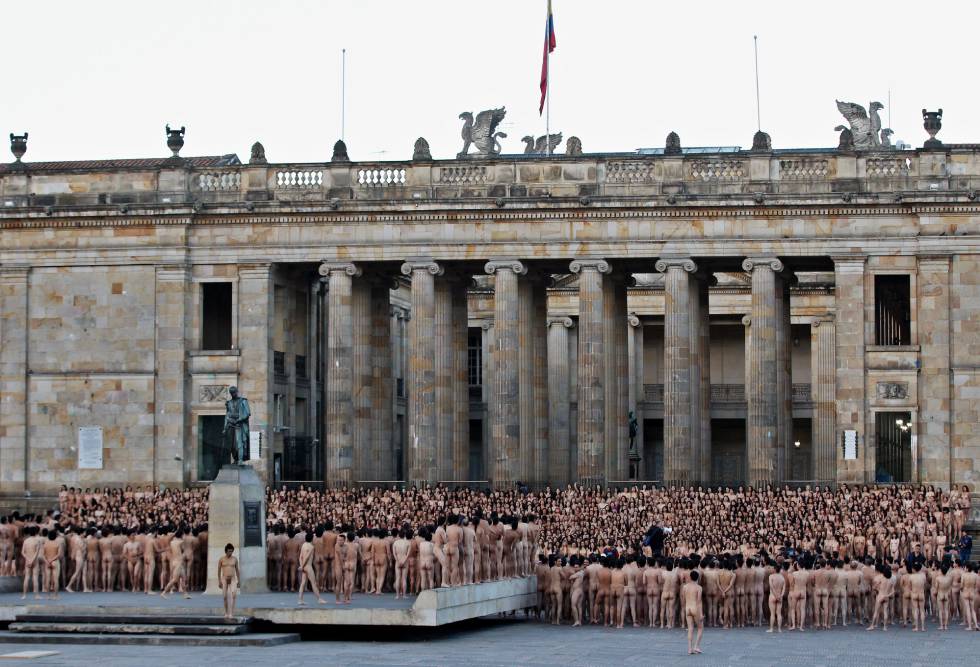 Spencer Tunick gets down to bare essentials in Bogotá. The American photographer gathers together more than 6,000 people, who braved the cold in the Colombian capital for a nude group shot
More than 6,000 people gathered in downtown Bogotá in the early hours of Sunday morning to take part in a project by Spencer Tunick. Not only did the American photographer persuade the multitude to pose nude for a group photo but he also got Colombians out on the streets as early as 2am in order to take part, despite the low temperatures in the capital.
Tunick's next stunt will have him "install" 100 naked women to greet Donald Trump to the RNC.
En español:
Santos➡️Castro-Chavismo: (los lectores amigos ayudarán a completar la lista) pic.twitter.com/JaXuxReTe3

— Álvaro Uribe Vélez (@AlvaroUribeVel) June 6, 2016