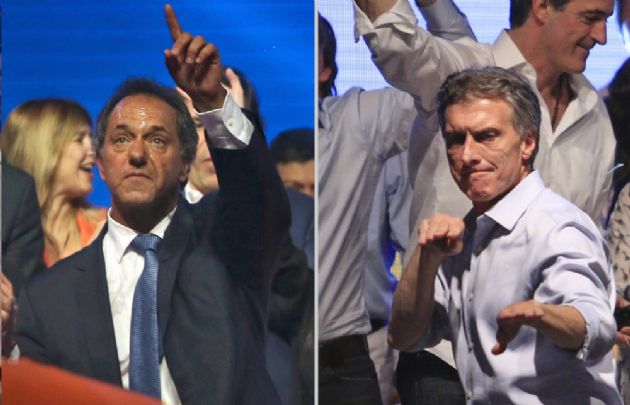 Both at 35%, even when Scioli, Cristina's anointed, was regarded as "clear favorite."
Scioli had brought Maradona along on the campaign trail,
A few headlines from around the world:
WSJ: Argentina Heads for Presidential Runoff in Shock Result
At stake are Mrs. Kirchner's trademark policies, including heavy government spending to expand welfare programs, currency controls and import barriers. Economists say those policies have stalled the economy and spurred 25% annual inflation, but her supporters say she has redistributed wealth and brought stability to a country that suffered an economic collapse in 2001 when it defaulted on its debt. Mrs. Kirchner has a 42% approval rating, according to polling firm Management & Fit, the highest of any departing president in modern Argentine history. She is constitutionally barred from seeking a third consecutive term.
The Guardian: Argentina's presidential election headed for second round after no clear winner. Preliminary results put ruling coalition's Daniel Scioli and opposition candidate, Mauricio Macri, neck and neck
Until the result, Scioli – a former racing boat champion – was the clear favourite, but the result was a disappointment to supporters. They had hoped a strong mandate would help them resist calls for drastic changes to Kirchner's leftwing policies that have been popular with the public, but left the economy with a host of problems.
El Pais: Argentina faces presidential runoff after unexpectedly tight vote. Conservative Macri surprises voters by closing in on government candidate Scioli
The tight race means that Argentineans will head to the polls again on November 22, and many observers believe it likely that Macri, a conservative millionaire businessman, will defeat Scioli and end 12 years of leftist Kirchnerite governments.
Clarin: For the first time in 28 years, peronists lost the governorship of the Buenos Aires Province. Scioli y Macri a segunda vuelta y Vidal con un gran triunfo. En la presidencial quedaron con poca diferencia y habrá balotaje el 22 de noviembre. La candidata del PRO venció a Aníbal F. y desplazó al PJ de la gobernación tras 28 años
Un par de horas más tarde, se confirmaría lo peor para el Gobierno: no sólo Scioli estrenará la segunda vuelta presidencial, sino que después de 28 años, el peronismo perdió la gobernación de la provincia de Buenos Aires. La cándida María Eugenia Vidal vencía esta madrugada al duro Aníbal Fernández por varios puntos. También la oposición se alzaba con un triunfo en varios municipios clave de la Provincia (Tres de Febrero, Quilmes, Morón, Pilar, Mar del Plata, Bahía Blanca) y en una provincia históricamente peronista como Jujuy. Cambio de época.

[My translation:
A couple of hours later came the worst news for the Government: Not only will Scioli go to a runoff, but, for the first time in 28 years, peronists lost the governorship of the Buenos Aires Province. Newby María Eugenia Vidal won by several points over veteran Aníbal Fernández. The opposition scored wins in several of the Province's key municipalities (Tres de Febrero, Quilmes, Morón, Pilar, Mar del Plata, Bahía Blanca) and in the traditionally peronist province of Jujuy. Change of an era.]
Le Monde: En Argentine, un revers pour la présidente Cristina Kirchner [In Argentina, a setback for president Cristina Kirchner.]
This puts Massa, Cristina's former cabinet chief, in an interesting position.
NYT: In Argentina Elections, Tight Vote Yields Presidential Runoff
The candidates signaled an intense new phase of campaigning ahead of the runoff election on Nov. 22. Sergio Massa, a former ally of Mrs. Kirchner's who moved into the opposition, could find himself in the role of kingmaker after securing 21 percent of the vote in the partial count, with analysts questioning whether he will forge an alliance with Mr. Macri.
Channel News Asia: Argentina's Massa coy on role in any presidential run-offPresidential challenger Sergio Massa, who almost certainly placed third in Argentina's presidential election on Sunday, congratulated his rivals on their result and vowed to remain in the political fight.
I have several links in this morning's Carnival regarding the many challenges ahead for Argentina's next president.
The November 22 runoff will be the first in Argentina's history.