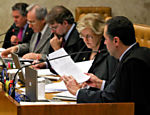 The Mensalão trials convicted 25 people over a scheme to pay opposition politicians 30,000 reais (around US$12,000 at the time) every month in order to vote for legislation favored by then-president Luiz Inacio Lula da Silva. "Mensalão" means "big monthly allowance", and it was. The scandal burst into the scene in 2005.
Folha de Sao Paulo outlines how the key members of Lula's party, Partido dos Trabalhadores (PT) channeled funds to Marcos Valério Fernandes de Souza's ad agencies that had government contracts, funneling the payments through the Banco Rural.
38 people were accused of corruption, fraud, conspiracy, tax evasion, and money laundering.
The trials also brought up charges of illegal campaign contributions from Cuba and the FARC, but nothing much came from those allegations.
Lula's own chief of staff, Jose Dirceu, was sentenced to 10 years and 10 months, while Lula to this day insists that he knew nothing.
So far, no one has served time in prison.
As you may recall, the convictions were appealed. Back in September I predicted that would take years, but Brazil's Supreme Court has now upheld the jail terms of 23 out of the 25 people sentenced:
Brazil upholds corruption jail terms
Brazil's Supreme Court rules that most of the 25 people convicted in the country's biggest corruption trial should start their prison sentences.
Folha de Sao Paolo, which first uncovered the story, has extensive reports (in Portuguese) on the trials. So far, Dirceu has not turned himself in to the police, which in turn awaits the court orders from the Supremo Tribunal Federal (STF) (Federal Supreme Court) to jail the people involved.