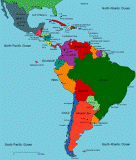 Welcome to the Carnival of Latin America and the Caribbean.
This week's big news: the new Honduras agreement. Please see this morning's roundup on the international reaction, and last Friday's post. More posts on Honduras below.
LATIN AMERICA
Hacia una visa común latinoamericana
ARGENTINA
Argentina's debt negotiations: Settling up
The government seeks a deal on its remaining defaulted bonds
BOLIVIA
Hugo Chávez pagó a BTR para armar a la policía antimotines de Evo Morales
BRAZIL
Indígenas del Amazonas salvan a sobrevivientes de un accidente aéreo en Brasil
CHILE
Chilean President Rides High as Term Ends
Cinco nuevos proyectos de edificios de oficinas en Santiago Centro.
COLOMBIA
Colombia's paramilitaries: Militias march again
The "justice and peace" process the Colombian government offered to right-wing paramilitaries is at risk of falling apart
WHO chief says Fidel Castro 'looks wonderful'
Obama asked Spain to deliver a message to Raúl about 'changes,' newspaper says
DOMINICAN REPUBLIC
Marriage amendment in DR flies under the radar
HONDURAS
Zelaya advierte que no avalará el Gobierno de Unidad si no es restituido
Republican lawmakers seek probe over Honduras coup
Honduras Is An Opportunity. And the United States shouldn't squander it. Well, they just did.
George Soros and the Illegal Drug Trade Behind Obama's Honduras Policy?
MEXICO
Mexico's Debacle—A Teaching Moment
U.S. put Mexican human rights crusader into forced asylum. Lawyer likens episode at El Paso crossing to 'Twilight Zone'
NICARAGUA
Constitutional Danger in Nicaragua, Ortega Up to His Old Tricks
PANAMA
Panama's financial industry
Shades of grey: The unfinished job of cleaning up the country's financial reputation
PERU
Local soccer hooligans kill young woman in Peru
Jaime Bayly talks about the case (in Spanish)
PUERTO RICO
Quick Work: First Lawsuit Hits Over Friday's Explosion in P.R.
Descartan terrorismo en incendio de P.Rico
El FBI concluyó que la explosión en Capeco no fue un acto de sabotaje, sino que fue provocado por gases que emanaron de un tanque en el almacén de combustibles de la empresa
URUGUAY
Uruguay: el Frente Amplio conserva la mayoría parlamentaria
VENEZUELA


Reader question, interesting comparisons on the US and Venezuela's money printing
Interview with Daniel Duquenal of Venezuela News and Views
They all knew about electrical woes for at least 7 years
High Level U.S. Diplomat Meets With Chavez
Socialism in action in Venezuela
AMERICAN POLITICS
Justifying the Prize
This week's posts
Please note there were no podcasts last week since I had laryngitis.
Trick or treat: The Zelaya costume
Lifestyles of the rich and famous Communists
To hell in a handbasket
Argentina: The war against the media.
Update, 3 November
Welcome, Dodgeblogium readers!