The Indian helicopters that Ecuador bought keep falling off the sky, but the bigger story is Iran's continued presence in the region.
ARGENTINA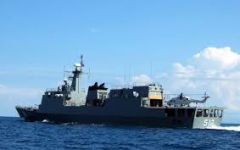 China to supply Argentina five "Malvinas Class" offshore patrol vessels
Argentine president Cristina Fernández de Kirchner is expected to sign agreements with China to increase military co-operation, including construction of new warships for the Argentine Navy, during her current state visit to Beijing, according to media reports and Jane's Defense Weekly.
Argentinian president to write letter to Mia Farrow over tweets
Fernández will write letters to the actress and Martina Navratilova in response to tweets about the mysterious death of a federal prosecutor
Death of prosecutor leaves Argentina's Jewish community angry and distrustful
The mysterious death of Alberto Nisman, who was investigating a 1994 terrorist attack, has alarmed many Jews but others warn against over-simplifying the case

BOLIVIA
Stranger in a Strange Land: An Internship Gone Bad
BRAZIL
Rio carnival downsizing and another cancelled as Brazil feels the pinch
Brazil is tightening its purse strings ahead of the 2016 Olympics and carnivals across the country are downsizing or have been cancelled
CHILE
Chile's Bachelet Renews Bid to Legalize Abortion
Religious Groups Prepare to Fight Proposed Exemptions
COLOMBIA
Colombia's FARC rebels invite Miss Universe to attend peace talks
Newly crowned beauty queen Paulina Vega Rebels surprised after being invited to assist guerillas' peace negotiations with the government.
CUBA
A Tally of What Cuba Owes the World
FPI Bulletin: More Questions than Answers at Cuba Hearings
ECUADOR
Jorge Zabala presenta denuncia ante Consejo de la Judicatura
Posibilidad de fraude procesal, alerta defensor de los hermanos Isaías
Ecuador Grapples With Grounded Freighter
Ecuador has declared a 180-day state of emergency in the protected Galápagos Islands, while it continues to unload and work toward refloating a freighter that ran aground last week.
GUATEMALA
Guatemala volcano eruption forces evacuations
Fuego volcano belches black ash, forcing 100 residents to be moved out and closing the capital's international airport
IMMIGRATION
Obama administration issues 5.5M work permits to non-citizens; critics call it 'shadow' immigration system
POPE FRANCIS: APPLY RULE OF LAW WHEN DEALING WITH IMMIGRANTS
MEXICO
Experts question Mexican investigation of 43 students' disappearance
Argentinian forensic team hired on behalf of students' parents says government presented biased analyses of the scientific evidence
Two US Army Vets Missing In Mexican Border City With Raging Cartel War
Conflict of interest in Mexico
A false start
Mixed messages in a new anti-corruption campaign
MISERY INDEX
The five most miserable countries in the world at the end of 2014 are, in order: Venezuela, Argentina, Syria, Ukraine, and Iran.
NICARAGUA
Can a Chinese billionaire build a canal across Nicaragua? Depends on who else is backing him up.
PANAMA
Panama Becomes First Latin American Nation to Join Coalition Against ISIS
PERU
Peru's no-convictions politician
A failed labour reform exposes the limits of pragmatism
PUERTO RICO
It's called "rule of law": Puerto Rico Restructuring Law Thrown Out in Bondholder Win
Investment funds of Franklin Resources Inc. and OppenheimerFunds Inc., which hold more than $1.5 billion in bonds issued by the Puerto Rico Electric Power Authority, convinced a federal judge in San Juan that bankruptcy law and the U.S. Constitution trump the commonwealth's legislation.

The law, passed under threat of a fiscal emergency, would have allowed public utilities such as the power authority, or Prepa, to negotiate with bondholders to reduce their debt loads, potentially forcing investors to accept unfavorable terms, according to the funds' complaint.
URUGUAY
Uruguay questioned Iranian diplomat over fake bomb near Israeli embassy
Convincing-looking dummy bomb detonated outside Montevideo offices
Iranian ambassador summoned to Uruguayan foreign office in December
Diplomat denied any connection but has now left country
Jose Mujica Was Every Liberal's Dream President. He Was Too Good to Be True.
He spoke truth to power, and legalized marijuana and abortion. So why are Uruguay's progressives so disappointed?
VENEZUELA
Venezuela accuses UK of smuggling 'spy glasses' into trial of opposition leader
Leopoldo Lopez's father says it was he, not a British diplomat, who brought in the video glasses, but prosecutor claims there was collusion with the family
Nelson Mandela's Lawyer on a Mission for Leopoldo's Release
Irwin Cotler Joins Imprisoned Opponent's Defense Team amid Human-Rights Row
Running Out of Time: Dimming Prospects for Reform in Venezuela
Venezuela Maduro: State seizes supermarket chain
The week's posts and podcast:
Separated at birth?
Sunday evening tango: Mario Bournissen & Laura Rusconi
Uruguay: Iranian diplomat expelled after bomb explosion near Israeli embassy
Argentina: And now the spy is missing
Moral equivalence strikes again
Cuba: Next, O will give away Gitmo
Colombia: Is that a Russian RPG in your pocket?
China: Cristina's twit UPDATED
Argentina: #Nisman is front-page news at the NYT
Argentina: Nisman wanted Cristina's arrest UPDATE
At Da Tech Guy Blog:
A few thoughts about Bruce Jenner
Univision plays the world's smallest violin
Podcast:
On Silvio Canto's
[Post corrected for html errors]