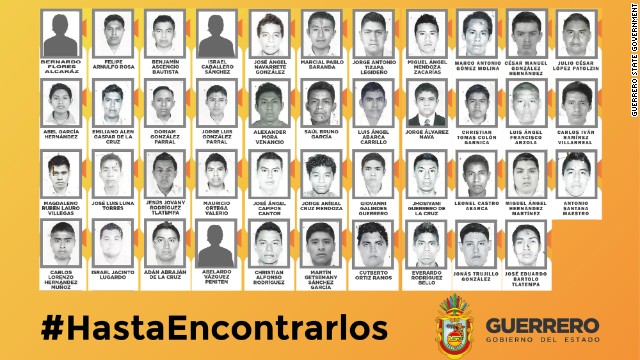 I have been blogging about the 43 student teachers missing since September 26, but, as I pointed out in yesterday's podcast, they are only a few of the thousands missing/killed by the drug cartels.
How many?
At least 22,000:
But searchers have found plenty of other horrors, including a string of mass graves with 50 unidentified victims that DNA tests show are not the students. Most of those victims were chopped into bits and set on fire.
As the discovery of the other grave sites shows, the mystery of the missing students isn't an isolated case. The Mexican government estimates more than 22,000 people went "missing" during the last eight years of violence here between cartels fighting each other and security forces. Human-rights groups say the toll could be far higher.
If most of those missing are dead, as rights groups fear, that would significantly raise Mexico's already staggering death toll of some 100,000 drug-related homicides during the past eight years by more than a fifth.
Before you blame the war on drugs, bear in mind that the cartels (sometimes with the help of the authorities) are killing each other and whoever dares to speak against them:
Mexico's missing is a somewhat different phenomenon. Here, the crimes tend to be more about money than ideology. Drug and kidnapping gangs have perpetrated most of Mexico's disappearances, officials say. But, if investigators' version of events holds true, the case of students shows the line between organized crime and government security forces can be thin.

Disappearing victims has long been a strategy of the warring gangs, who earn the bulk of their income trafficking marijuana and methamphetamine, heroin and cocaine to U.S. consumers.
Someone knows where the 43 students are, but no one is talking.
In other headlines,
Mexico's 43 Missing Students: Iguala Mayor Jose Luis Abarca 'Murdered Political Rival'; additionally,
Abarca has been accused in the past of direct participation in torture and murders of activists, while his wife Maria de los Angeles Pineda Villa has links to gangs as members of her family (at least three brothers) are part of the Beltrán Leyva drugcartel.