Border security = national security, and we're in the hands of Sir Robin.
First, The Tale of Sir Robin:
And now, the news story, via Jawa: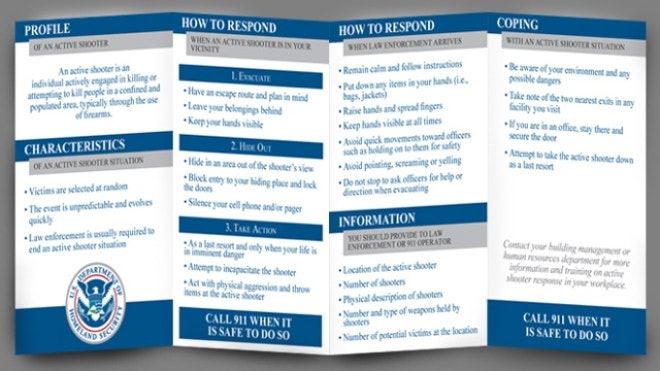 Border Patrol union blasts Homeland Security instructions to 'run away' and 'hide' from gunmen
Border Patrol agents in Arizona are blasting their bosses for telling them, along with all other Department of Homeland Security employees, to run and hide if they encounter an "active shooter."
It's one thing to tell civilian employees to cower under a desk if a gunman starts spraying fire in a confined area, say members of Tucson Local 2544/National Border Patrol Council, but to give armed law enforcement professionals the same advice is downright insulting. The instructions from DHS come in the form of pamphlets and a mandatory computer tutorial.
Specifically,
Main Points of the "Active Shooter" training course
Evacuate: If there is an accessible escape path, attempt to evacuate the premises.
Hide out: If evacuation is not possible, find a place to hide where the active shooter is less likely to find you.
Take action: As a last resort, and only when your life is in imminent danger, attempt to disrupt and/or incapacitate the active shooter.
Say again? "Attempt to disrupt and/or incapacitate the active shooter"? Whatever happened to shoot to kill?
What's next? Holler at them, "Your mother was a hamster and your father smelt of elder berries"?
Jawa also points out,
OT kinda but not considering the current head of DHS and her prior position as Gov of Arizona: Obama Contributor, Who Helped Enact Assault-Weapons Ban, Ran 'Fast and Furious'

In 2003, when Napolitano became governor, Burke became her chief of staff. He stayed in that job until the fall of 2008, when he left to help Democratic political campaigns, including then-Sen. Obama's presidential campaign

Read it all.
We're in the best of hands.
UPDATE,
Linked by Mental Recession. Thanks!
Cross-posted in The Green Room.