Bye-bye Dilma 👋🏻
Aproveita e leva o Lula junto ☺️#tchaudilma pic.twitter.com/CoWsQhji5F

— W.Kiyota Taemi (@KiyotaW) April 18, 2016
[Bye-bye Dilma.
And take Lula with y ou while you're at it. #tchaudilma]
Yesterday's #1 TV show in Brazil? Brazil Lower House Votes to Impeach President Dilma Rousseff. Senate will next vote on whether to pursue an impeachment trial
The Chamber of Deputies voted 367-137, with seven abstentions and two no-shows, topping the necessary threshold of 342 votes to move the impeachment proceedings to the Senate. The upper house will now decide in coming days whether she should stand trial for allegedly violating Brazil's budget laws.

Sunday's vote marks a major step toward removing Ms. Rousseff from power. The odds are against her prevailing in the Senate, which isn't likely to save a badly weakened president, said Carlos Melo, a political-science professor at the Insper business school in São Paulo.
The Twitter tags followed, with #TchaoQuerida and #TchauQuerida (Bye, darling) among the favorites.
O Globo has full coverage (my translation)
If the majority of the senators decide to open the impeachment process, Dilma will be removed from office immediately for up to 180 days, while the House examines whether there is evidence to permanently revoke her.
ROUNDUP:
#Brasil Paliza al Foro de San Pablo: Diputados aprueban destitución de Rousseff
At Memeorandum,
Andrew Jacobs /

New York Times

:

Dilma Rousseff Is Impeached by Brazil's Lower House of Congress

  —  BRASÍLIA — Brazilian legislators voted on Sunday night to approve impeachment of Dilma Rousseff, the nation's first female president, whose tenure has been buffeted by a dizzying corruption scandal, a shrinking economy and spreading disillusionment.
Jonathan Watts / Guardian: Brazilian congress votes to impeach president Dilma Rousseff
Brazil's Congress approves process to impeach President Dilma Rousseff. Embattled leader's future now lies in the hands of the Senate
If you're unsure why President Rousseff's impeachment vote matters in Brazil, here's a guide https://t.co/BNTfBDGKeJ pic.twitter.com/ywOmfGtS5e

— Bloomberg (@business) April 18, 2016

Brazil crisis: Rousseff loses lower house impeachment vote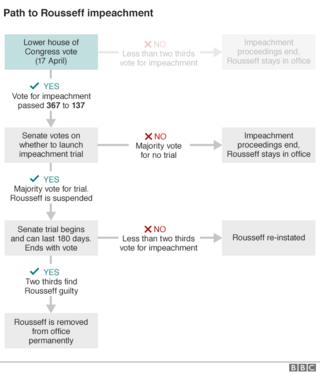 (click on image for larger view)
Dilma's approval rating is 10 percent. O Globo estimates that 50 senators would vote for impeachment.
The question is, who next?
Rousseff and her supporters have pointed out that her potential successors and many opposition lawmakers are facing corruption charges or allegations in the Petrobras scandal. Members of the vice president's party are allegedly "deeply involved" in the scandal, according to the Financial Times. Cunha, second in line to replace Rousseff, was charged with money laundering and corruption last year for allegedly accepting a $5 million bribe. Renan Calheiros, the president of the Senate and third in line to the presidency, has been implicated in the scheme in testimony from a Workers Party politician who was charged in the investigation. More than half of the members of the congressional impeachment committee areunder investigation for corruption or other serious crimes.
As I said earlier, what Brazil's institutions and people do will determine the fate of their country – and possibly of the hemisphere – for the remaining of the 21st century.