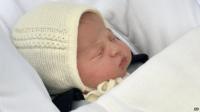 The Duke and Duchess of Cambridge, Prince William and Kate Middleton, had a baby daughter born on Saturday, and that's all you'll hear about it on this blog.
On with the news in our hemisphere:
ARGENTINA
Now even the dogs get kidnapped: Gangs Target Purebred Dogs in Argentina
BAHAMAS
Bahamas court agrees to review new immigration rules
BRAZIL
Lula Investigated for Being Odebrecht's "Trafficker-in-Chief"
Brazil's Power Dynamics Shifting Amid Political Scandals
Brazilian executed in Indonesia 'unaware what was happening until end'Priests states Brazilian man executed in Indonesia did not understand what was happening to him because of his schizophrenia and bipolar disorder
CHILE
Chile's Calbuco volcano erupts for third time
COLOMBIA
Colombia's High Court Seeks Wider Probe of Espionage CaseInvestigation of ex-President Álvaro Uribe, five other aides sought
Where Are Colombia's Youth in FARC Negotiations?Josías Fiesco: The Most Impacted Have Not a Single Seat at the Table
Colombia's judiciaryTrouble at the topEven the highest courts are not immune from scandal
COSTA RICA
Costa Rica is happy — but not too much
CUBA
From China: Clandestine Arms Shipment Arrives in Cuba
Venezuela's Maduro Joins Raul Castro for Cuba's May Day Parade, where no one would dare throw mangoes at them.
ECUADOR
What Happened When I Joked About the President of Ecuador
A few months before, I registered the Crudo Ecuador brand with the Ecuadorean Institute of Intellectual Property. The I.E.P.I. published the Gaceta, a booklet that shows all the brands that are being registered, including mine.

That's when things took a dark turn. Some Twitter users began posting I.E.P.I. documents. These documents are supposed to be confidential; they showed my telephone number, my address, my ID number. Then they started posting information from the civil registry. And then, a photo of me in a mall. When I showed my wife the picture, she said, "Hey, this was taken three days ago." So they'd been following us.
GUATEMALA
Guatemala Needs More than OutrageScale Back the State to Starve Corruption
HAITI
SCHWEIZER: CLINTON DONORS, RELATIVES GOT RICH OFF HAITI CONTRACTS, US TAXPAYERS
JAMAICA
A Tale of Two Plantations: Slave Life and Labor in Jamaica and Virginia reviewRichard S Dunn's comparative study of slavery makes surprising arguments
LATIN AMERICA
Thanks To Vaccination, Rubella Has Been Eliminated From The Western Hemisphere
MEXICO
Mexican army helicopter shot at in drug cartel attackA Mexican army helicopter has been shot at in the western state of Jalisco, killing three soldiers and injuring 12 others.
NICARAGUA
For "peaceful purposes"? Nicaragua approves Russian satellite base for 'alternative GPS'Opposition say legislation was rushed through without proper scrutinyNicaraguan military says it plans to buy Russian jets and patrol boats
PANAMA
Crossing the Darién Gap: US-bound migrants marooned in Panama jungleLong voyage winds from half a world away in search of economic opportunity in North America (emphasis added),
As dusk fell on a recent Saturday, a long dugout canoe floated into this remote town in Darién province of Panama, carrying an increasingly frequent cargo of improbable origins.

At a border police base by the Chucunaque River, the human haul — 13 Bangladeshis, seven Nepalese and two Somalis — disembarked to noisy greetings from other migrants on the bank.
PARAGUAY
Girl, 10, raped by stepfather, denied abortion in ParaguayAmnesty International is calling on Paraguay's government to allow child to get an abortion for the sake of her health
PERU
Hidden early Christian crypt discovered with dozens of skeletons
PUERTO RICO
Puerto Rico on the Brink
Puerto Rico is in trouble, after years of bad policies, mismanagement, excessive debt and bad luck.

Its economy has been shrinking or stagnant for a decade and theunemployment rate sits at nearly 12 percent. The commonwealth and its utilities have a debt of $73 billion, its public pension funds are woefully underfunded and one state agency has warned that the government could be forced to shut down soon because it might run out of money.
URUGUAY
Ex-Gitmo Detainees In Uruguay Protest At U.S. Embassy
VENEZUELA
The U.N.'s Venezuela Crush Gets Orwellian
Report: Venezuela's Medical Shortages Rival War ZonesHuman Rights Watch: Thousands at Risk while Maduro Looks for Scapegoats
«Yo fui el intérprete de Chávez»Mohamad Mohamadi fue el traductor del líder bolivariano en más de un centenar de encuentros con sus aliados iraníes
The week's posts and podcast:
Argentina: On with slandering the Jews in the AMIA & #Nisman cases
Cuba: How's that "easement" going?, part 2
"The Americans" non-values UPDATED
Venezuela: Electricity rationing because of . . . global warming
Chile: Bachelet lifts a page from the Clintons
Minnesota men heading to ISIS via . . . Mexico?
Puerto Rico: Calling Dr. Cardona Harper
Cuba: How's that "easement" going?
Latin America: Why there's no light at the end of the tunnel
Podcast:
Mexico and other US Latin America stories of the week