This week's big news is,
Mining Company Samarco's Dam Bursts in Brazil. A rural community in southeast Brazil was devastated Thursday and an undetermined number of people left dead when a mining company's dam suddenly burst.
More headlines:
5 Questions Facing BHP Following Deadly Brazil Spill. BHP Billiton and Vale are facing increased scrutiny over a deadly dam spill at the Samarco iron-ore mine in Brazil, which they jointly own. Here are five questions facing BHP and its investors following the disaster on Thursday
5. What does the Samarco mine closure mean for the global iron-ore market?
The suspension of exports from the Samarco mine will help ease a glut in iron-ore supply that has weighed on prices. Deutsche Bank estimates that Samarco accounts for around 2% of the 1.55 billion tons of iron ore traded by sea each year. The broker expects prices to increase, especially if other mines owned by Vale in Brazil come under extra scrutiny. Citi also thinks iron-ore prices aren't headed lower and the US$44-a-ton low in July will be its nadir for 2015. Still, Citi predicts further falls to come in 2016.
Brazil Dam Breach Casts Spotlight on Mine Safety. The deadly dam break at one of BHP Billiton's joint-owned mines in Brazil comes as steady improvements in major mining companies' records on worker fatalities appear to have stalled.
This week's Carnival is short due to other commitments:
ARGENTINA
Argentina Printing Cash by the Truckload Is Boon for Trucks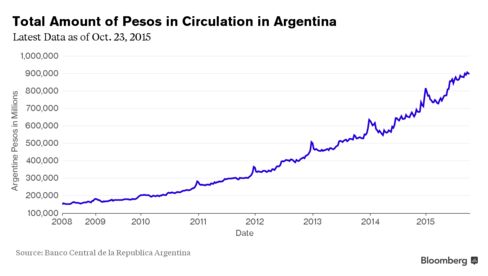 COLOMBIA
Álvaro Uribe en Miami: "Hoy la frontera es libre para los terroristas".El exmandatario de Colombia ofreció una conferencia en la Universidad de Miami, donde abordó la situación de la frontera y el estado actual de la nación sudamericana
CUBA
Unintended consequences: Cuba detente creates migrant crisis in Mexico. And crossing the Mexico-U.S. border is half the price of crossing by sea, which costs $10,000.
ECUADOR
Ecuador's stability: far from assured. Looming $7bn-$8bn financing shortfall puts attractive bond yields in perspective
MEXICO
Is Chapo Guzman hiding out in Patagonia? Argentine and Chilean police are said to be searching the Andes for the elusive Mexican drugs lord, who escaped from a maximum-security prison in June
PUERTO RICO
Carson endorses statehood for Puerto Rico at island rally
VENEZUELA
Good luck with that: Maduro attributes "industrial progress" in Venezuela to cooperation with China