ARGENTINA
Argentina's President Declassifies Files on Dead Prosecutor Nisman. Federal Intelligence Agency Has 30 Days to Hand Over Documents to a Judge
BELIZE
ABC producer was 'murdered and sexually assaulted while on vacation in Belize'
Producer Anne Swaney, 39, arrived last Saturday to Nabatunich Resort, Benque Viejo in Belize
She disappeared on Thursday after doing yoga by the Mopan River
Swaney's half-naked corpse was found floating on the river on Friday
BRAZIL
Brazilian Unemployment Climbs to 9%
Doctors' union in Rio has warned that Olympic visitors will not get medical attention if they fall sick during 2016 games. Some major hospitals have been forced to close while even the most seriously ill patients cannot be admitted because of a funding shortfall
Brazil fire: Explosion unleashes toxic gas in Santos
CHILE
Thousands of squid wash up on Chilean shore
COLOMBIA
Colombia Cancels Anglo-Australian Consortium's Oil Contracts
Índice de miseria Colombia: 2013: 18% 2014: 20% 2015: 25% pic.twitter.com/fGktovdYzf

— Álvaro Uribe Vélez (@AlvaroUribeVel) January 16, 2016
CUBA
Report: Cuban Army Gets Lion's Share of Foreign Investment. NGO Documents Suffocating Network of Military-Run Businesses
EL SALVADOR
US renews El Salvador travel warning due to rampant violence
MEXICO
The Manhunt for the Drug Kingpin El Chapo. Joaquín Guzmán Loera's meeting with the movie star Sean Penn gave the authorities the break they needed to help recapture him.
Crime in Mexico: From Penn to pen. El Chapo's recapture heralds closer co-operation with the United States. Maybe.
PANAMA
How Panama Canal Expansion Will Affect U.S. Shipping Sector
PUERTO RICO
Congressional Hearings Grapple with Puerto Rico's Fiscal Train Wreck. Island's Power Authority Insolvent, US$1 Billion Payment Looms
URUGUAY
Chile, Argentina, Mexico, Uruguay and Peru fined over homophobic chants.
• Fifa takes action over chants during 2018 World Cup qualifying
• Chile's fine is biggest at £48,000, for incidents at four games
VENEZUELA
"A day late and a dollar short"?
Venezuela decrees economic emergency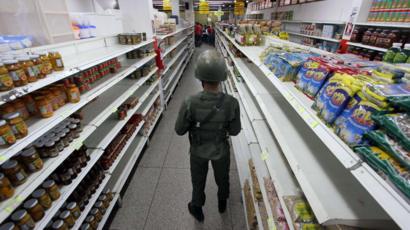 The Venezuelan government announces a 60-day economic emergency to deal with the country's worsening crisis.
Venezuela's First Lady criticises America for 'kidnapping' her relatives and charging them with trafficking. Cilia Flores, wife of President Nicolas Maduro, has spoken for the first time about the arrest of her relatives on charges of plotting to traffic 800kg of cocaine into the United States