British actor Alan Rickman has died of cancer.
The Telegraph: Alan Rickman dies: British giant of stage and screen dies of cancer aged 69 – latestBritish film and theatre actor – famous for playing Severus Snape in Harry Potter and villain Hans Gruber in Die Hard – has passed away
• BAFTA and Golden Globe-winning actor dies from cancer at 69
• Star surrounded by family and friends as he passed away
• Shock for fans as he had not spoken publicly of his illness
• Best known for Die Hard role and as Prof Snape in Harry Potter
• 'Such talent and wicked charm': Tributes to giant of screen
• Gallery: Alan Rickman's life and career in pictures
BBC: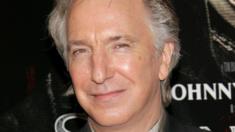 Potter actor Alan Rickman dies aged 69
British actor Alan Rickman, known for films including Harry Potter, Die Hard and Robin Hood: Prince of Thieves, has died aged 69, his family says.
I was a fan years ago, from about 1990 (when he starred in Die Hard) until after his Private Lives performance on Broadway (2002), and the Private Lives autographed poster – a gift from a friend – hangs in my living room. Through the internet, I became friends with Suzanne Kurtz, who absolutely loved him and ran the Alan Rickman Fan Page. Suzanne was an extraordinary woman who greatly influenced my outlook on life.
Through her website, Suzanne ran a guestbook which was very popular. With the contributions of hundreds of fans around the world, I put together a fan website called The Rickmanista Review while teaching myself HTML.
Unfortunately I was put off by Mr. Rickman's politics, and grew bored after several dull movies he participated in later in his career. Suzanne kindly took over the Review for her Alan Rickman Fan Page, and, after her passing, the website closed. I am thankful to have met Suzanne and honored to have become her friend.
This was one of her favorites,
#Throwback Thursday,
#TBT 2002 #AlanRickman pic.twitter.com/Y64eODSP2p

— Fausta (@Fausta) January 14, 2016
Trending on Memeorandum.