Today we commemorate those who died for our great nation.
ARGENTINA
Argentinian Falklands veterans take 'torture' case to international arenaVeterans of the 1982 conflict recount their ordeal and the anti-Semitic abuse they faced in a press conference, including instances of beatings and sexual violence
Do orang-utans have human rights?Argentinian court hears arguments on whether keeping Sandra the orang-utan in a zoo is a human rights violation, but the Nisman case got dismissed.
BOLIVIA
NARCORREVOLUCIÓNEl negocio cocalero de Evo Morales y Nicolás Maduro
Almost 500 Students, Teachers Poisoned in Northern Bolivia
No marraqueta for you! Bakers Stop Baking Traditional Bolivian Bread in La Paz
The bakers of La Paz will not bake 'marraqueta', a traditional Bolivian bread symbolic of the city, as a part of a strike in opposition to the Bolivian government's removal of a flour subsidy, a trade-union source told Efe.
BRAZIL
Unlike my former neighbors in Princeton, I don't share their fascination with Albert Einstein, but here it is anyway: A 65-year-old letter written by Albert Einstein found in Brazil schoolThe letter was reportedly discovered in a safe at a school in Porto Alegre in the south of the country
CHILE
Clashes as Chile's Bachelet seeks to regain popularityPresident looks to get reform agenda back on track in annual address to Congress as protesters and police clash outside.
COLOMBIA
Colombia Rebels Suspend Unilateral Cease-Fire after Army Operation
Farc rebels killed in new air strikeColombia's security forces kill at least five rebels from the Farc a day after the left-wing rebel group suspended its unilateral ceasefire.
CUBA
Cuban torturers sent to Vietnam to 'extract' information from American prisoners
Syrian Regime Officials Visit Cuba, Learn From Castro's Outmaneuvering of Obama
Trafficking With the Enemy, American Taxpayers Deserve BetterDo Your Due Diligence Before Engaging in Authorized Transactions in Cuba, Especially When it Comes to the Confiscated Lands Issue
The Pope, Liberation Theology, Palestine and Castro…One by one, the great Western institutions have fallen to the infection of the left. Have they now captured the Church of Rome? Yes.
ECUADOR
Chevron Update
EL SALVADOR
Msgr. Romero Beatified in El Salvador Before Crowd of 300,000
Crowds greet Romero beatification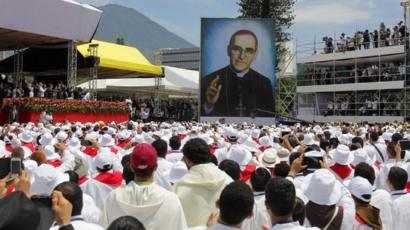 Huge crowds in El Salvador attend the beatification of Oscar Romero – the Roman Catholic archbishop murdered during the 1980-92 civil war.
El Salvador Needs Economic Development, Rule of Law
GUATEMALA
MOB BURNS GIRL ALIVE IN CENTRAL AMERICA **GRAPHIC VIDEO**
Guatemalan Central Bank Chief Arrested on Corruption Charges
GUYANA
Guyana's electionA time to healThe new government could narrow the racial divide
IMMIGRATION
Telemundo Ignores Conservative Immigration Initiative. The Spanish-language networks are so awful at news, 80% of so-called Hispanics in the U.S. get their news elsewhere.
JAMAICA
Jamaica rejects buggery law repeal, same-sex marriage
MEXICO
Mexico investigates new Guerrero disappearances
AT LEAST 42 GUNMEN AND ONE COP KILLED IN MEXICAN CARTEL FIREFIGHT
Gulf Cartel Had Camera Surveillance System Across Mexican Border City
PANAMA
'No peace dividend' for Panama border force
"Peace is not a bad thing, but it's unlikely to solve our problems," says Director of Panama's Border Police, Frank Abrego.
He is referring to the prospect of a peace deal between the Colombian government and left-wing rebels of the Revolutionary Armed Forces of Colombia (Farc).
PARAGUAY
Counterfeit goods are big business in Paraguay
PERU
Peru declares state of emergency over mining violence
PUERTO RICO
Final Section of Modern, Regional Undersea Cable Comes Ashore in Puerto Rico
URUGUAY
Matías Campiani Private Equity Executive to Be Released From Uruguay Prison
VENEZUELA
Will the Venezuelan State Fail?
NYC's most legendary prosecutor sees a darker threat in Venezuela's alleged global cocaine hub
 Morgethau believed, and still does, that Chavez's regime was allowing Iran to use the country's banking system, and that former Venezeulan Interior Minister Tarek El Aissami specifically helped Iran's agents obtain Venezuelan passports so they could travel freely around the world.
The week's posts and podcast:
Memorial Day Commemoration Ceremonies
37 MS-13 indicted in Charlotte
Argentina: Veterans take torture case to inter-American court of human rights
Brazil: Up next, China's 3,000mile railroad?
Communism: When the only way out is death
Mexico: Human rights division head resigns over Iguala case
Venezuela: Diosdado and drugs – whose powerplay?
Ecuador: Brazilian prosecutor sides with Chevron
Today's podcast at 1PM Eastern: The 113th anniversary of Cuba, hosted by Silvio Canto Jr http://t.co/G4tiV46EcG

— Fausta (@Fausta) May 20, 2015