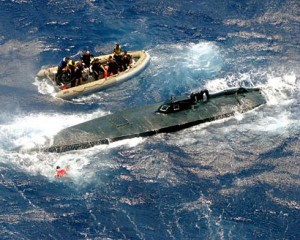 Prensa Libre reports that a gang that manufactures and operates submarines has been nabbed. They worked for the Úsuga clan. The subs are used for transporting cocaine to Honduras, the U.S., and Europe.
It'll be interesting to see what information comes about from the seizure of the shipyard; their subs could carry a crew of four, and seven tons of drugs.
Certainly, the technology has evolved immensely since the days of Pablo Escobar.
The Center for International Maritime Security (CIMSEC) reports on narco-subs:
CAPABILITY ANALYSIS, SOUTH AMERICA
NARCO-SUBMARINES: DRUG CARTELS' INNOVATIVE TECHNOLOGY (emphasis added):
In fact, as of June 2012, maritime drug smuggling accounts for 80% of the total illicit flow from the Andean region into Honduras, Mexico and other mid-way transportation regions prior to entry into the U.S. About 30% of the maritime flow is estimated by the Drug Enforcement Administration (DEA) to utilize narco submarines. Overall, however, maritime interdiction rates are very low.
…
The numbers of these vessels which now exist is also highly debatable with potentially dozens of them being produced every year by criminal organizations in Colombia such as the FARC (Fuerzas Armadas Revolucionarias de Colombia), Rastrojos, and Urabeños. One point greatly influencing the numbers of these vessels which exist at any specific time is if they are utilized once and then scuttled after their delivery (the traditional U.S. military viewpoint) or if they are utilized multiple times (the traditional Colombian military viewpoint). Depending on the perspective held, greater or lesser numbers of narco subs would be required to be produced each year to replenish the vessels lost due to capture, accidental sinking, intentional-scuttling to avoid capture, and, potentially most importantly, at the end of a delivery run.
The CIMSEC will be releasing a paper,
"Narco-Submarines – Specially Fabricated Vessels Used For Drug Smuggling Purposes", soon to be released by the Foreign Military Studies Office (FMSO) and intended to be an initial primer on the subject of narco-submarines.
. . .
Finally, it is important that we collectively consider the potential of these types of vessels to transport more than just narcotics: the movement of cash, weapons, violent extremists, or, at the darkest end of the spectrum, weapons of mass destruction.
The study will appear on the FMSO website. I'll link to it when it does.
UPDATE:
Linked to by Silvio Canto. Thank you!