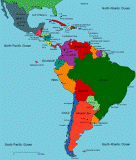 Last week's top story:
Not as strident as all the Venezuelan news, but very important, Four killed in Bolivia clashes over new constitution
A Bolivian protester died early on Monday after being injured in clashes with police over the weekend, local officials said, raising the death toll to four from violent confrontations over a new draft constitution.

Jose Luis Cardozo "died in the early hours on Monday," said Fidel Herrera, the head of the municipal council of Sucre, and one of the protest leaders.

Cardozo suffered serious injuries on Saturday as thousands of demonstrators demanded their southeastern city of Sucre be named the capital of Bolivia and protested pro-government delegates approving a new constitution.

The protests took a violent turn on Saturday evening when another demonstrator, a 29-year-old lawyer, died of a gunshot wound. Police later used tear gas to quell the protests.

Two other people, a police officer and a third protester, were also killed in the street violence and dozens were injured.
The Bolivarian Revolution's not quite going as planned in Bolivia.
Bolivian protesters free prisoners
SUCRE, Bolivia (Reuters) – Demonstrators opposed to efforts by Bolivian President Evo Morales to overhaul the constitution on Sunday torched police stations and stormed a jail, freeing 100 inmates, while on the streets protesters clashed with police and one officer was killed.

The protests in the southern city of Sucre came hours after pro-government allies in a constitutional assembly approved a preliminary draft late on Saturday of the new constitution, a key Morales political project.

Morales, a leftist and Bolivia's first Indian president, says the new constitution will give the country's indigenous majority more political power.

But the vote was boycotted by the rightist opposition, which has heavily criticized the assembly.

On the streets of Sucre, protesters stood face to face with police officers, setting fires to tires as tear-gas rained down on them.

They also set fire to Sucre's San Roque prison, starting a prison riot that saw at least 100 inmates escape, local media said.
In other Bolivian news, Bolivia's Gas Nationalization: Opportunity and Challenges
Spanish-language website of the week:
RELIAL Red Liberal de America Latina
Don't miss HACER's roster of Latin American blogs and the Wall Street Journal in Spanish.
SOUTH AMERICA:
Crisis in the Americas
As fears mount, experts debate terrorist inroads in Latin America (registration required)
Don't like your constitution? Then rewrite it
In Latin America, revisions can renew a nation's pride – or exploit its people
COLOMBIA
Media Myths About Free Trade Cause Many To Forget Benefits
Notes from a Reader in South America, Ambassador Gherbasi
Betancourt's husband asks Chavez to keep mediating
Uribe and Chavez trade insults as Venezuela freezes ties
Uribe: Chavez wants a Marxist FARC government in Colombia
Further adventures in Bolivarian diplomacy
CUBA
Is there a doctor in the Gulag?
Around the Block for Some Cafe … (roundup)
Jeff Jacoby: Writing the truth about Cuba
ECUADOR:
I Marched with the Terrorists: Chevron-Texaco sued again in the Amazon
Ecuador's Correa wins control of constituent assembly, official results show
Unofficial Vote Count Confirms Correa Victory
VENEZUELAN-ECUADOREAN-IRANIAN AXIS ON THE MOVE
IMMIGRATION
Estados Unidos, Admision Gratis
MEXICO
U.S. Anti-Drug Plan Would Recast Legal System in Mexico
From Mexico but posting on the Brooklyn madrassa, War of Ideas on the Homefront
PANAMA
Panama November Rains Leave Jamaica Mission Team Stranded
PERU
Victims of Ica Held a Peaceful Strike During Friday's Riot
Violently Treated Women in Peru March for Their Rights
You tax money at work: UN declares 2008 as 'International Year of the Potato' (IYP)
PUERTO RICO
Pageant officials investigate who put pepper spray on Miss Puerto Rico Universe's gowns
VENEZUELA
The referendum on the extensive rewrite of the Constitution is scheduled for December 2.
Who are the students of the Venezuelan opposition?
This Ain't Hell has a roundup of referendum articles and posts.
Read the item-by-item analysis of the constitutional reforms at the Venezuela's Constitutional Reform website.
To vote or not to Vote? Venezuela at the crossroad or all the doors will open Chavez's reform
Venezuela's path to self-destruction
Voters are on the verge of handing President Hugo Chavez the power to turn their country into a dictatorship
Vi a Maria A comeback for communism
Do Wealthy Liberal Democracies Fail?
Chavez Loses Lead; Declares Opponents Traitors
Only The Sith Deal In Absolutes
Center for Security Policy's articles on Venezuela via CVF
(In Spanish)
Countdown to Tyranny I
Countdown to Tyranny II
Countdown to Tyranny III
Countdown to Tyranny IV
Article 98: Patents and the decline of innovation in Venezuela
Other Venezuela-related posts:
Yes, we have no milk in Venezuela
"Do you want me to pee on you?"
Chavez budgets $250 million for 'alternative' groups
Venezuela's proposed budget includes more than $250 million for 'anti-imperialist' groups in the United States and Latin America.
Video: Unhinged in Venezuela
Breakdown
Excusing Chavez and Defending The Indefensible
Voting in Tyranny
Loving Chavez
Excusing Chavez
Clown Conference, Tehran, November 19, 2007
HUGO CHAVEZ VS. THE CATHOLIC CHURCH
Hugo and 'Jad, talking currency

————————————————————–
Special thanks to Maggie, Eneas Biglione, Larwyn, and Maria.
Linking to the Carnival:
A Colombo-americana's perspective
Pajamas Media