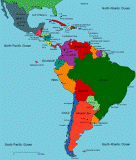 Welcome to the Martin Luther King Day edition of the Carnival of Latin America and the Caribbean.
Today's top story is that Brazil's president Lula visited Cuba last week and said that Castro is 'ready to return' while at the same time Castro Says He's Too Unhealthy to Speak. And then some wonder why there's incredulity in this world.
Don't miss also the video of Chavez saying he chews coca every day.
If you would like your links on Latin America to be included in the Monday carnivals, please email me by Sunday evening: faustaw "at" yahoo "dot" com.
SPANISH-LANGUAGE WEBSITE OF THE WEEK
Un millon de voces contra el FARC
LATIN AMERICA
Translating Obama
France has nuclear energy deals in the works with Argentina and Chile.
IMMIGRATION
Symposium: The Immigration Solution
HACER is hosting the international conference US-Mexico Labor Market Dilemma: Overcoming the bi-national political circus in Mexico City on January 24, 2008 – 11:30 AM.
VIDEOS
Chavez Announces: I Chew Coca Every Day
Chávez says he chews coca daily
Analysts said Chávez's comments before National Assembly amounted to a dangerous endorsement and might be an admission of an illegal act.

Two videos in Spanish:
From El Cato, on economic freedom and democracy:

FARC TERRORISTAS ASESINOS

BARBADOS
Thompson: 'much at stake for Barbados'
Sweet Success: A change of power in one of the Caribbean's best-run and most stable democracies
BOLIVIA
Enshrining Mob Rule in Bolivia: Communal Justice and the New Constitution
BRAZIL
This time it will all be different Why Brazil is better placed than it used to be to cope with a world slowdown
CHILE
Chile-Peru spat over sea border
COLOMBIA
Story of Colombian boy hostage emerges
557 Reasong why the FARC is on the international lists of terrorist groups
From the official Colombian government website, a press release on Uribe's trip to the EU: Presidente Uribe viaja a Europa para explicar logros en Seguridad Democrática y avanzar en Acuerdo de Asociacion
Galeras Volcano erupts in Colombia
CUBA
Plantados hasta la Libertad y Democracia en Cuba
Demand Medical Attention for Critically Ill Cuban Prisoners
Reality is nothing, perception is everything
Detenido de forma agresiva y abusiva el ex preso político y opositor Raúl Federico Caballero Rodríguez representante de Plantados en la provincia de Camagüey.
Reperecusión en Prensa, Oswaldo Payá-Elecciones Cuba
Will the real Che Guevara please stand up?
Why tourism is no longer promoted
ECUADOR
Ecuador: La escasez y el Socialismo del Siglo XXI
U.S. SouthCom Pimps for Soros's US AID
MEXICO
Mexico's Cartel War: Calderon in the Cauldron
Is this the next president of Mexico?
NICARAGUA
Chavez in Nicaragua; Absurdity ensues
PANAMA
U.S. Navy Official Exaggerated Terrorist Threat to Arctic & Panama Canal Shipping
Party time: President Torrijos's grip is beginning to falter
PERU
Peru GDP Expanded 8.1% in November From Year Ago
PUERTO RICO
Timothy Olyphant Heads Off on 'A Perfect Getaway'
From a UFO site blog: SETI: " . . . Mystery Signal Has Been Picked Up By a Giant Radio-Telescope in Puerto Rico"
Ricky Martin at Las Fiestas de la Calle San Sebastian, and the plena video I linked to on Saturday,

TRINIDAD TOBAGO
30 Murders in 18 Days!
VENEZUELA
The Dangerously High Price of Crossing Hugo Chavez
Judge Monica Fernandez, a Venezuelan human rights advocate, was shot on January 4 in what police ruled a botched car robbery. The night before the attack, she was branded an enemy of the state, a coup-plotter, and a fascist on a state television show which condemns those who dare to oppose the government's actions. Coincidence? Thor Halvorssen doesn't think so.
Via Siggy,
Venezuela's Jews Find Their Voice as Chavez Ramps Up Harassment
Chavez to farmers: Sell within Venezuela or it's 'treason'; Chavez threatens to send in the army to seize farms at gunpoint unless farmers sell all their milk to the government. Udder stupidity. As Ed says,
Chavez has chosen the Mugabe way of state confiscation of farms, and will eventually get the Mugabe result — taking his nation into poverty and starvation on land that should produce enough for export.
Chavez and the FARC-The Unveiling
Is Chavez seeking war with Colombia?
U.S. media treats Chavez better than he accords his opponents and Lucianne discussion thread
Venezuelan government continues attack on independent media; Alberto Federico Ravell is "Caracas Nine" dissident #3
An article from last month I didn't link to Election deception
——————————————————————–
For more carnival fun, visit
SheBlogs Carnival #13
, hosted by Sex and the South.
Blogging about the Carnival
A colombo-americana's perspective.
Obi's Sister