UPDATE, Tuesday March 4
FARC purchased uranium; Chavez gave the FARC $300 million as a Valentine's Day gift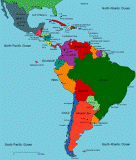 Welcome to the Carnival of Latin America and the Caribbean.
If you would like your posts included in the Monday Carnivals, please email me your links, faustaw "at" yahoo "dot" com.
Today's big story: After the Colombian army did a brief raid into Ecuador and killed the FARC's #2 guy, Hugo's ordered troops, tanks and jets to stand by the border with Colombia, and Hugo's friend Correa of Ecuador has done likewise, probably after Hugo reminded him of their joint projects and asked for a show of indignation.
What will it come to? I try to answer that question this morning at Pajamas Media. More from Venezuela News and Views here.
LATIN AMERICA
What the world is hearing
Can The US Prevent A Starvation Crisis?
NAFTA Nonsense Insults Our Allies
U.S. Candidates & Latin America experts: a clue to policy
The Democrats and NAFTA bashing
ARGENTINA, BRAZIL
Proliferation of Nuclear Technology in Latin America Continues
CHILE
Chile stocks fall on US recession fears, earnings
COLOMBIA
Colombia's hostages
FARC releases four more hostages
Top FARC Dog Raul Reyes Killed By Colombian Forces
CBS/AP Fail to Call FARC Narco-terrorists Terrorists
CUBA
Video: Transition of Power in Cuba from Fidel to Raul Castro
Tyler Cowen on visualizing poverty
Via Instapundit, Can't say that of Cuba
Cuba, North Korea and the Terrorism List
Cuba signs rights treaties at U.N. Socialist regime accuses U.S. of harming rights of Cubans
DOMINICAN REPUBLIC
Fighting cocks culled
ECUADOR
TENSIONS RISING– Documents Link Ecuador's President to FARC
Correa and Chavez Act to Support the criminal cartel FARC while Colombia Does the Right Thing
"Sovereign Trusts" Clone Russian Cartels and Replace Liberties in 3 Andean Nations
GUYANA
Investigations into Guyana massacres said to be progressing
HAITi
Commentary: Giving a jolt to the Haitian economy!
MEXICO
Mexico under siege
NICARAGUA
Daniel Ortega's approval rating
PANAMA
Making a dream of retirement in Panama a reality
PERU
Llamas and mash
PUERTO RICO
New York labor leader Dennis Rivera in shady Puerto Rico union deal
VENEZUELA
Propaganda, not policy: Hugo Chavez has not ended illiteracy
Squatting in Venezuela: worse than ever
Is Chavez admitting an alliance with FARC?
Venezuela Targets English Terms
China steps forward as Venezuela's key oil buyer
The Muzzle by Teodoro Petkoff
Behind the Chavista bomb attack and the invation to the Archbishop Palace
Special thanks to Siggy, Maggie, Jose and Larwyn.
UPDATE, Tuesday March 4
Welcome Instapundit and Red State readers. If you have a chance, please listen to my podcasts on Venezuela and its politics.
If you're a blogger, would you like to join us for dinner and brunch at Spring BlogFest East on April 5 and 6?