but the military blame the tourist agency.
Two reports:
Egyptian army kills Mexican tourists by mistake
– Interior ministry says military personnel believed group was a convoy of terrorists
Egyptian military forces mistakenly attacked a convoy of tourists on Sunday night, leaving at least 12 Mexicans and Egyptians dead and 10 others wounded, the country's interior ministry has revealed.

Soldiers thought the convoy belonged to an Egyptian affiliate of the Islamic State terrorist group against which they had recently been fighting tough battles in the area. Mexico has confirmed that at least two of the dead are Mexican.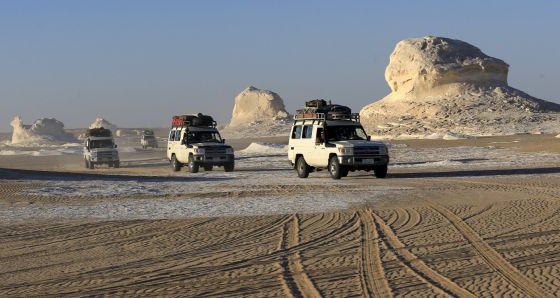 Tourists in Egypt Were Killed With BombsMexican foreign minister says bombs were dropped from helicopters and planes (emphasis added)
Egyptian security forces used planes and helicopters to bomb Mexican tourists and their guides, who Egyptian officials said were mistaken for terrorists, survivors told Mexican officials after the attack that left 12 dead.

An Egyptian tourism ministry spokeswoman refused to comment on the allegations and other government officials didn't immediately respond to requests for comment.

Egypt's Foreign Minister Sameh Shoukry said the tourists were in a restricted area where military and police forces were pursuing suspected terrorists. Tourism ministry spokeswoman Rasha el Azaizy accused the tour company that organized the trip of procedural violations that she claimed led to the tragedy.
. . .
However, a representative of the company that organized the excursion, Windows of Egypt, said the group had all necessary permits from authorities and even had a police escort when they came under fire from jet fighters and helicopters late Sunday afternoon.
Egypt's tourist industry is in shambles.