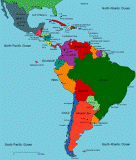 Welcome to thie Christmas Eve edition of the Carnival of Latin America and the Caribbean. I wish all of you a very happy Christmas.
If you have a post or a news item you would like to contribute, please email me: faustaw -at- yahoo -dot- com.
The big story of the week: The bombing of the Argentine Jewish community center in 1994 and Iran, the NIE, and Rafsanjani.
SPANISH LANGUAGE WEBSITE OF THE WEEK:
El Cato
LATIN AMERICA
The Carnivorous and Vegetarian Lefts, by Carlos Alberto Montaner. This was his speech at the Opening Plenary Session, The Whitherspoon Institute, Princeton University, Dec. 6, 2007.
UPDATE: Speaking of vegetarian lefties, Chavez Faces Challenge From Former Comrade: Venezuela's New Hero Has Respect in Army; a Vegetarian Mystic
Latino-Islamic Terror: Hezbollah Shows Off Their Latin Bombers
Via Babalu, Chavez offers oil for bananas deal
The Changing Dynamic in Latin America
ARGENTINA
Iran's Nuclear Terror. More at Patterico's Argentina, Iran and nuclear weapons.
AMIA, the communal offices of the Argentine Jewish community, was struck by a massive suicide truck bomb on July 18, 1994 – 85 were killed and over 200 injured. Iran and Hezbollah were suspected from the beginning. The Argentine investigation has had several false starts and has been mired in corruption, but in recent years has gotten on track. Last month Interpol voted overwhelmingly to issue a red letter calling for the arrest of five Iranians (along with Hezbollah's external operations chief Imad Mughniyah) on the basis of the Argentine investigation. The publicly available report on the AMIA bombing offers tremendous insight into the Iranian regime's modus operandi and worldview.
Full Prosecutor: Argentina bombings ordered by Iran
The NIE & Rafsanjani
Cog in the Regime
ABOUT IRAN'S BUENOS AIRES BOMBINGS
The NIE's Iran finding was based on…an old laptop and the word of Rafsanjani?
Troubles for Argentina's New Evita
The suitcase full of Chavista money is also in the news:
Stung in Miami

Ballet star Bocca bows out in Buenos Aires
ARUBA
Natalee Holloway Case Officially Closed
BOLIVIA
Bolivia: $872,000 from Chavez with Love

Bolivians fear political unrest as rivals face off
BRAZIL
Petrobras to Invest Up to $1 Billion With Bolivia State Company
Lula Says 2007 Was Exceptional, 2008 Will Be Better
COLOMBIA
FARC's Real Aim: Ending Democracy
Colombia protests over Nicaragua's FARC remarks

CUBA
Chavez deepens investment in Cuba
Via Gates of Vienna, Seven Questions: Castro's Decline
Cuban Refinery Inaugurated, With Chávez in Spotlight
Venezuelan leader Chavez presides over oil summit in Cuba
Chavez dice desde Santiago que Venezuela y Cuba son una misma nacion
Omnibus Includes $33.6 Million for Democracy Promotion in Cuba (Rep. Ileana Ros-Lehtinen)
Blogging from Cuba: Generacion Y?
ECUADOR
Santa Claus Lives
MEXICO
Intifada On The Mexican Border
Running just to stand still: How to reform the flawed behemoth that is the world's sixth-biggest oil producer
NICARAGUA
Nicaraguan expats to join forces in opposition to Daniel Ortega
Iran making diplomatic inroads in Nicaragua
New friends in the neighborhood
Iran's push into Central America
The Skunk Is Back In Nicaragua
PUERTO RICO
Puertorican politics remain the same as they were when I lived there: politicians continue to use the "status" as a smokescreen behind wich to hide the real underlying problems of the island:
Statehood topic tops all issues in Puerto Rico<: House panel energizes debate by calling for new referendum
SAN JUAN, PUERTO RICO — The governor is under criminal investigation, crime and unemployment are soaring and the economy is faltering as foreign firms are shutting down factories.

But to hear the politicians on this gem of a Caribbean island tell it, the only real issue on the public agenda is whether Puerto Rico should become the 51st state, ending its decades-old status as a U.S. commonwealth.

A bill calling for a referendum on the issue recently won approval in a U.S. House committee, triggering a new round of intense debate on the island, despite the fact that final congressional approval and an actual vote are still iffy propositions at best.

Some tiring of debate
After decades of rowdy argument, though, some Puerto Ricans appear to be tiring of the seemingly eternal debate over what is known here as the "status" issue.
Don't I know it.
VENEZUELA
Prodigality as state policy:
The case of Hugo Chavez
The Hallaca Effect: Chavez's Undoing
The Nixon Moreno case: Political Persecution is alive and well in Chavez' revolution
"Ironically, the United States is financing Chavez's Bolivarian revolution"
Che shirt wearing Cuban idiots booed in Venezuela, also at Citizen Feathers

El movimiento estudiantil, antídoto contra Chávez
Venezuela falls behind the times
More Venezuela price caps may go
About time
And speaking of Chavez…
The 2007 result: the surprising abstention
Analisis psiquiatrico de Hugo Chavez:
Entrevista al Dr. Franzel Delgado Senior
HUMOR
Hillary Hires King Juan Carlos to Manage Husband
BLOGGING ABOUT THE CARNIVAL
A colombo-americana's perspective
—————————————————————-
For more Carnival fun, don't miss the Carnival of Christmas, 2007 Edition