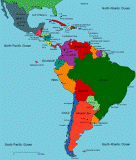 Welcome to this week's Carnival of Latin America and the Caribbean.
This week's big stories: the governor of Puerto Rico claims that the massive Federal investigation on his wrongdoings is politically motivated, and Hugo gets farked by the FARC.
If you would like to have your posts included in the Carnival, please email me the link(s): faustaw "at" yahoo "dot" com.
New WEBSITE, and new FEATURE
Website: Net for Cuba International
Feature: The Cubanology Biweekly Report
ARGENTINA, VENEZUELA AND AMERICA
Slush and garbage
The imbroglio over a cash-stuffed suitcase
The Mothers of the Plaza de Mayo join the circus
CARIBBEAN
Audio: BBC Radio's Caribbean Report
LATIN AMERICA
Pace of investment disappoints Latin America
HACER's weekly roundup.
BELIZE
Every time…
BOLIVIA
Bolivia's Dilemma: Democracy v. Authoritarianism
Bolivia looking for heavy investment from oil firms
Second Venezuelan found with suspicious cash
BRAZIL
If redemption fails, you can still use the free bathroom
Edir Macedo and his Universal Church have prospered by offering a religion "of results" to the upwardly mobile
CHILE
Llaima volcano erupts in Chile
COLOMBIA
Colombia Says DNA Links Boy To Woman Held by Rebel Group
Bogota opens 'museum of laziness'
A museum dedicated to laziness has opened in Colombia's capital, Bogota.
The event features sofas placed in front of televisions, hammocks and beds – anything associated with the avoidance of work.
Sounds a lot like the Princeton Public Library, if you ask me…
COSTA RICA
Scientists discover three new species of salamanders in Costa Rica
CUBA
Cuban divorce is easy, housing is harder
ECUADOR
Failed and Incompetent Economist Correa Locks in Cuban Economic Model in Ecuador
A Tale of Two Cities: Ecuadorean Falls 47 Stories off Skyscraper and Lives; Alvaro Noboa Stumbles and is Abandoned
GUATEMALA
I Hate Monkeys And They Hate Me
MEXICO
Border stories
Via Maria, Tourists Shun Crime-Hit Mexico Beaches
NICARAGUA
Gearing up for the electoral season: Nica News for Jan 2
PUERTO RICO
Puerto Rico Leader: FBI Probe Political
in Puerto Rico, the looming threat of an indictment may just help Gov. Anibal Acevedo Vila hold onto power
Cockfights canceled due to import ban
TRINIDAD and TOBAGO
Trinidad and Tobago says no to PetroCaribe deal
VENEZUELA
Chavez: Calmer, or just more Convincing?
Chavez "Forced To Reduce Speed Of March"
A new, refurbished, gentler Chavez. A new, reshuffled, more radical Cabinet
The Mighty And Their (Temporary) Fall
Joe Kennedy, Hugo Chavez and That Free Heating Oil
US Democrats Pay Tribute To FARC Terrorists
Chavez punk'd by the FARC: Clara Roja's son was in Colombia all along
Chavez gest farked by the FARC once agan
A FARC'ing Shame… Hugo Chavez Gets Punked
The Students of Venezuela, Roaring Like Lions
The first casualty of tyranny is intelligence
Francisco Uson is Free; HRF's First Prisoner of Conscience Conditionally Released
INFLATION CLOSES AT 22.5 PERCENT IN 2007, via Announcement: inflation, crime and a second break
Venezuela cuts three zeros off bolivar currency while I watched The Sopranos
Venezuela's Chavez cools rhetoric after vote loss
A revolution? Awaiting Chavez' changes
Holy Chavistas! Venezuela Violent Deaths Double Iraq's Numbers
Is it safer to walk around in Baghdad than it is in Caracas? Hugo Chávez's socialist "sea of happiness" resembles a war zone.
Where War Deaths Are Worst
Chavez's Baby Rescue Operation is Stillborn
HUMOR
Hugo Chavez to Outlaw Capitalism In Venezuela
————————————————————
For more Carnival fun, don't miss
Haveil Havalim 149: The Impediment to Peace Edition
, and
SheBlogs Carnival #11