News breaking this week on the 43 disappeared students:
Mexico Captures Alleged Gang Member Linked to Student Disappearances. Gildardo López Astudillo, nicknamed 'El Gil,' said by authorities to have incinerated bodies
Authorities say alleged members of the gang known as Guerreros Unidos testified that Mr. López was in charge of the operation to incinerate the bodies of the 43 students, who were mistaken as members of a rival gang, according to the official investigation.

Guerreros Unidos and rival Los Rojos operate in Guerrero, a center for heroin production. Numerous members of the Guerreros Unidos have been taken into custody and charged. Some of those arrested had originally confessed to the crimes but later recanted, while others have denied any wrongdoing.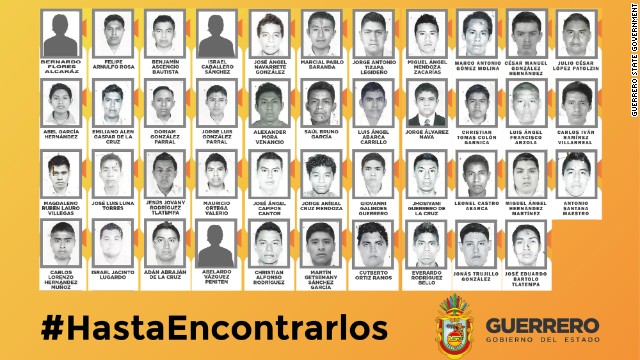 Mexico Says More Remains Identified from Student Killings. Government says experts identify second teachers college student from among 43 reported killed in Guerrero
Prosecutors say the students, who had commandeered long-haul passenger buses to travel to Mexico City for a planned demonstration, were mistaken as members of a rival drug gang.

More than 100 people have been detained as part of the investigation and some of them were later charged with various crimes.

The Inter-American group of experts said forensic evidence suggests such a massive fire never took place in the landfill.

Although government officials said they would review the investigation and take into account the Inter-American experts' report, several senior Mexican prosecutors have defended the initial conclusions.

Ms. Gómez, the Attorney General, said Wednesday that she has ordered the formation of a team of experts to study more than 63,000 fragments of remains recovered from the dump and the river for viable DNA samples, and that experts of the Inter-American group could join that team.
Odds are this will take years to resolve, and it's very likely the guilty will not serve time: 
Only 4.5% of reported crimes in Mexico are ever investigated and just 1% ever go before a judge, according to a recent study by Mexico's National Autonomous University. The criminal conviction rate in Mexico is 1.8%.