One thing for sure, had Lenín won by a large margin, there would be no wait.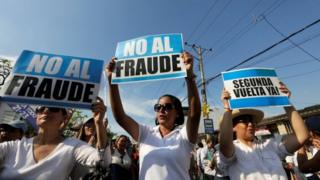 Ecuadoreans are growing impatient at the slow pace of vote counting with the results of the presidential poll delayed until Wednesday or Thursday.
National Electoral Council President Juan Pablo Pozo called on Ecuadoreans to "wait for the results with calm".

"There are very tight margins to establish whether there will be a second round or not," he said.

He blamed the delay on "numerical inconsistencies" in 5.5% of the ballots, while he said others were missing signatures from polling station officials.
Carlos Alberto Montaner voices concern on electoral fraud (video in Spanish), since a Lasso could win a second round,
Rafael Correa says he'll move to Belgium at the end of his term (why Belgium?), but there's speculation as to whether he'd run again in four years.
UPDATE
Last night's demonstrations,
"Ecuador awakened after a ten year nightmare"
El Ecuador despertó después de una pesadilla de diez años pic.twitter.com/97pGU7ZWtC

— Emilio Palacio (@PalacioEmilio) February 21, 2017