Trying to escape from the island-prison.
The whereabouts or outcome of the Cuban refugees who used this raft to escape their island prison is unknown, but the vessel itself has its own story to tell. It is a testament to not only the ingenuity of the Cubans who built a raft that can cross an ocean, but also the desperation that makes throwing oneself to the unforgiving sea a viable option.
Julian Fowler reports at the BBC: Cuban refugee boat washes up on County Sligo beach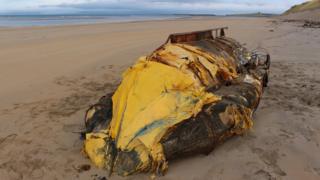 Click on the photo for details.