Joaquín "El Chapo" Guzmán landed in the U.S. last night. He will face six indictments throughout the U.S. for 17 counts including homicide, money laundering, and drug trafficking.
Two years ago, then-candidate Donald Trump sought FBI protection after El Chapo's son tweeted a death threat.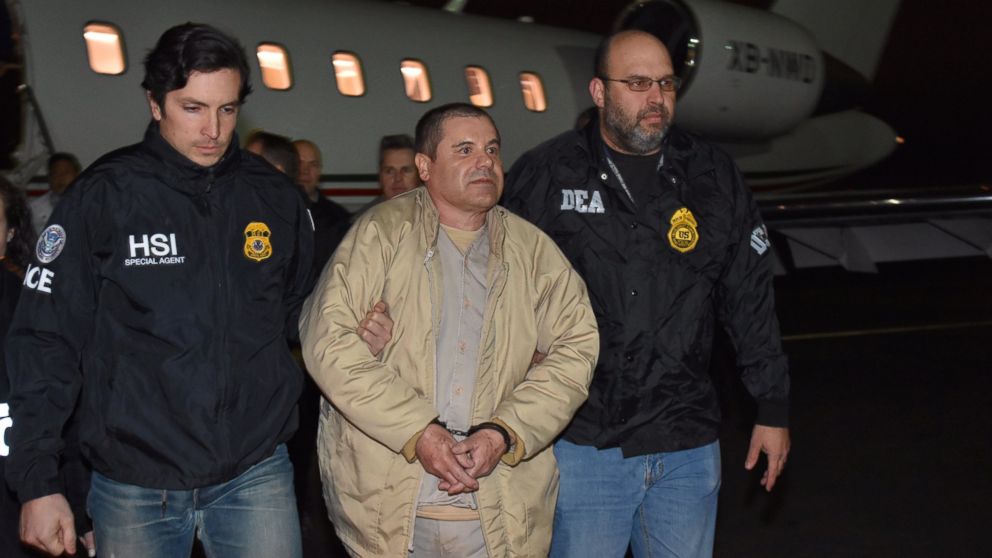 Mexico Extradites Drug Lord 'El Chapo' to U.S. Joaquín Guzmán faces six indictments across the U.S.
The Justice Department plans to put the former boss of the notorious Sinaloa cartel on trial in Brooklyn federal court, which is one of the most secure courthouses in the country, according to people familiar with the discussions. These people said the talks to finally get Mr. Guzmán on U.S. soil had accelerated in recent weeks.

Mr. Guzmán's extradition on the last day of the Obama administration came as a surprise, as his lawyers were still fighting extradOition.
Memeorandum thread:
  Azam Ahmed / New York Times:
El Chapo, Mexican Drug Kingpin, Extradited to the U.S.
Notorious drug lord Joaquín "El Chapo" Guzmán was extradited to the US on Thursday night as a slap in the face to Donald Trump, just hours before he's set to take office, sources told The Post.

"Mexico wanted to get it done before the proverbial wall was built — both with bricks and bombastic diplomacy by the Trump Administration," explained a federal law enforcement source familiar with the case.
Considering that El Chapo had embarrassed Mexican authorities by escaping from not one, but two, of the highest-security prisons in the country, one can believe the following:
According to the federal source, Mexico wanted him out of the country "as soon as possible"
El Chapo's first court appearance is at Brooklyn's Eastern District federal court, one of the most secure in the world.