In pictures: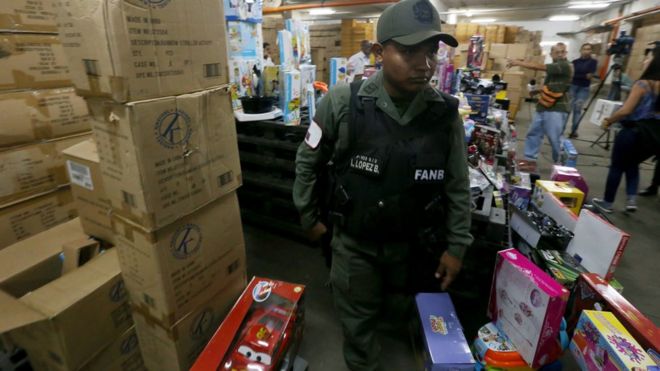 "#Video warehouse full of toys hoarded by Kreisel in Caracas"
#EnVídeo deposito lleno de juguetes acaparados por Kreisel en Caracas #ContactoConMaduro74 @NicolasMaduro pic.twitter.com/GK5Iut98ht

— Sundde (@sundde_ve) December 12, 2016
The headlines:
Venezuela Seizes Nearly 4 Million Toys, Saying They're Overpriced
Venezuelan president called a 'Grinch' after government toy seizure
Venezuela orders store owners to create a Merry Christmas even if it breaks them
I do hope you're all keeping up with events in Venezuela this year because it's an important object lesson which I've tried to drive home here repeatedly. This is how socialism always ends.
Caracas Chronicles' "I'm Dreaming of a Sh*t Christmas"
Tim Worstall:
Congratulations To Bolivarian Socialism – Now The Venezuelan Government Steals The Children's ToysTelesur
Telesur is rather more in favour of Bolivarian socialism than anyone sensible is:
"A total of 3,821,926 toys were seized from two warehouses and they will be delivered to poor children before Christmas Day, officials say."

x,xxx,926? Not x,xxx,925, or 927? This is evidence that we are dealing with economic idiots. Apologies, but this is, no one ever knows an economic number to that level of accuracy. This is why this Bolivarian socialism does not and cannot work of course. Simply because, as Hayek pointed out, we can never have knowledge to that level of accuracy and thus can never plan the economy to that level of accuracy.
Venezuela's Confiscation Of Christmas Toys Story Doesn't Add Up
My opinion is simply that the government itself is so ignorant of basic economics that they don't understand that corporate hoarding loses money in an inflationary environment. Along with all the other things they don't get about economics.