A Madrid billboard featuring a Brazilian actor starring on an American series about a Colombian drug lord is causing a stir during president Santo's Nobel Peace Prize triumphant tour.
The billboard says, "Oh, White Christmas."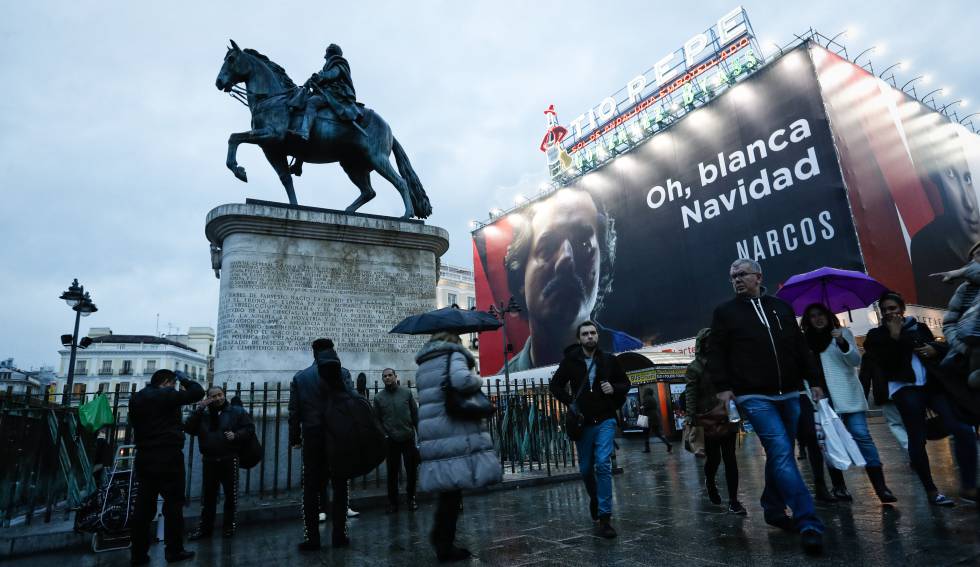 Colombia calls on Madrid to take down "offensive" Narcos poster. Authorities in South American country say downtown hoarding damages reputation of nation
On Tuesday, the government of Colombia joined the protests, with the country's Foreign Minister María Ángela Holguín asking Madrid Mayor Manuela Carmena to take down the poster.

Holguín, who is traveling with Colombian President Juan Manuel Santos – currently on a European tour after accepting the Nobel Peace Prize for his work in forging a peace deal with the guerilla group FARC – brought up the ad at a press conference in Madrid.

The minister said that Colombian Ambassador Alberto Furmanski has been in touch with Madrid authorities about taking down the sign because of the negative image it portrays about the Latin American nation.
Blaming the country's negative image on Netflix must be the new "kill the messenger."
Ms Holguín's efforts at polishing Colombia's image, however, are a good deflection from the fact that Santos's latest "peace" deal will place unelected members of the world's largest narco-terrorist organization in the Colombian congress.