Jude Sheerin of BBC News asks, What really happened with the Clintons in Haiti?, and posts this graphic (click on image),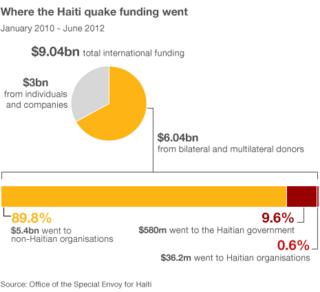 Mr Clinton's own office at the UN found 9% of the foreign aid cash went to the Haitian government and 0.6% to local organisations.

The bulk of it went to UN agencies, international aid groups, private contractors and donor countries' own civilian and military agencies.
For answers, you may want to read How the Clintons Worked the Angles in Haiti,
More Clinton Shenanigans in Haiti. Emails show the State Department and the Clinton Foundation collaborated on policy
and
Role of Hillary Clinton's brother in Haiti gold mine raises eyebrows
In interviews with The Washington Post, both [Tony] Rodham and the chief executive of Delaware-based VCS Mining said they were introduced at a meeting of the Clinton Global Initiative — an offshoot of the Clinton Foundation that critics have long alleged invites a blurring of its charitable mission with the business interests of Bill and Hillary Clinton and their corporate donors.
UPDATE
Commenter Luis asks,
Why does Jude Sheeran/BBC not tell us more about exactly what that $5.4 billion/89% did for the Haitians? What exactly did the "UN agencies, international aid groups, private contractors and donor countries own civilian and military agencies" do with that tidy sum of money?

AND, how much did the Clintons actually rake in? Only $9.04 billion?

AND, the chart shows where the $6.04 billion donated by "bilateral and multilateral" donors–whatever those designations mean–went, but it does not tell us where the $3 billion from "individuals and companies" went.
More Wikileaks,
Significant, if partisan, find showing how the Clintons supported child stealer Laura Silsby https://t.co/7nULjOgmzr pic.twitter.com/NCgsVWTF2W

— WikiLeaks (@wikileaks) November 3, 2016
Linked to by summer patriot, winter soldier. Thank you!