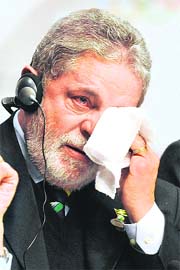 The prosecutors are charging Lula, his nephew, and Odebrecht:
Former Brazilian President Lula da Silva Faces New Corruption Charges. Prosecutors say he used influence to get loans for construction company Odebrecht in kickback scheme
A judge in Brasília would have to accept the charges for Mr. da Silva to face trial. He is already a defendant in two other federal cases on charges of attempted obstruction of justice, corruption and money laundering in connection with a sprawling embezzlement scheme at the state-run oil company Petróleo Brasileiro SA, known as Petrobras.