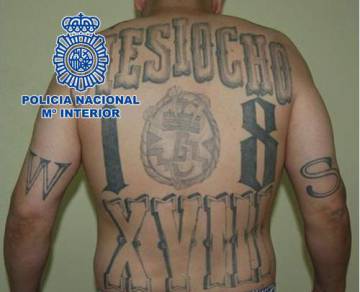 El País reports, Police arrest Mara 18 leader tasked with starting gang activity in Spain. Man known as 'The Mexican' detained while setting up extortion, kidnapping and trafficking ring
Spain's National Police force has arrested a man known as 'The Mexican' on suspicion of being one of the leaders of the international criminal organization known as Mara 18. He is thought to have been tasked with starting a new chapter of the violent gang in Spain.
I was rather confused over the headline, since I remembered reading that Mara 13 were rivals of Barrio 18.
Th always valuable InSight Crime clarifies,
Barrio 18 and MS13 are concentrated in the Northern Triangle region ofHonduras, El Salvador and Guatemala, and they also have a presence throughout much of the rest of Central America, as well as Mexico and the United States. Nonetheless, the extent of the gangs' transnational ties remains an open question, as the links between the different branches areoften highly tenuous.

The presence of Central American-based gangs in Europe is not a new phenomenon; both the MS13 and Barrio 18 have had a presence in Italy since the mid-2000s. There is increasing evidence, however, that the gang members in Europe are taking orders from Central American bosses. In addition to the recent case involving Mexicano, the gang members arrested in 2014 in Spain were reportedly Salvadorans sent overseas to build up MS13 operations in the country.