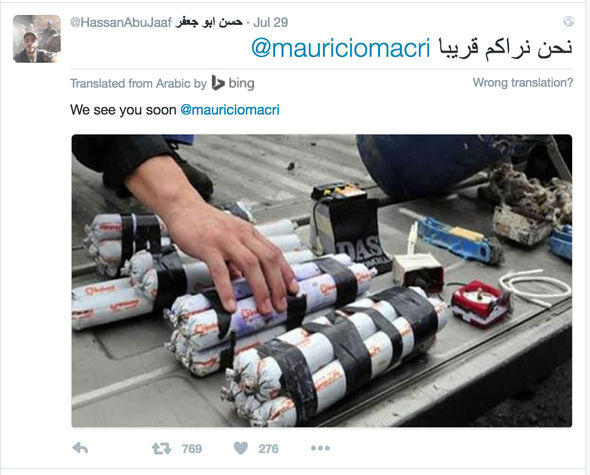 The Huffington Post reports today on a story that the UK's Express reported on last July
Two men were recently arrested in Argentina after sending terrorist threats to the country's president, Mauricio Macri.

The 21-year olds sent Tweets in Arabic threatening to "obliterate" the South American nation. Authorities were alerted after an image of explosives was sent to Macri. Text with the picture said, "See you soon."

The messages sent late last night, came as Macri was preparing for a series of high-profile events in Buenos Aires. The events are supposed to be visited by thousands.
The HuffPo and Express articles show a number of tweets sent by a user named Hassan Abdullah Jaaf threatening Macri and the country's Jewish population.
As has become the trend,
Carlos Rojas, the head of the country's Cybercrime Division, said, "We must determine the reasons behind the messages."
Last week RT (link in Spanish) reported that the country's Security Minister declared Argentinians trained by ISIS have been in the Syrian or Iraqi hot zones, and have travelled back and forth to either Argentina some of the neighboring countries, such as Uruguay.
As of the writing of this post, I could not find an update on the status of "Hassan Abdullah Jaaf" or the other, unnamed 21 year old arrested in July.
So the question remains, were the tweets a trial balloon, to see if the authorities are paying attention?
UPDATE
We talked about this today,
Today I was Willie Lawson's podcast guest https://t.co/dWCoZpPWgE

— Fausta (@Fausta) September 19, 2016