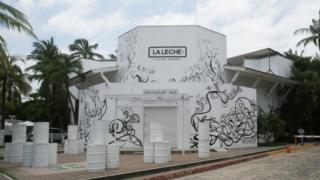 The BBC:
Mexico gang members abducted from Jalisco restaurant
At least 10 members of a Mexican criminal gang have been abducted by unknown gunmen at a restaurant in a Pacific Coast resort, officials say.

The incident took place in the early hours of Monday in Puerto Vallarta in the western state of Jalisco.

Police are trying to locate four women who were part of the group but were not abducted.

Local officials say the victims had travelled from neighbouring states for a celebration.

"There are clear indications that the 10 or 12 men abducted were members of a criminal organisation," said Jalisco state Attorney-General Eduardo Almaguer.

One of them had worked as bodyguard for the former governor of Jalisco state, Emilio Gonzalez Marquez, he added.

The captives were taken at gunpoint by five men who had arrived at La Leche restaurant in two utility vehicles.

Security guards apparently ran away as they saw the gunmen approaching the restaurant, El Informador newspaper reported.
Breitbart:
At Least 12 Tourists Abducted from Mexican Resort City
Mexican authorities are scrambling to rescue at between 12 and 16 victims who were taken at gunpoint from an upscale restaurant in the resort town of Puerto Vallarta.

On Monday afternoon, the Jalisco Prosecutor's Office confirmed to Breitbart Texas through a prepared statement the ongoing investigation into a large kidnapping.

According to the information provided by authorities, the kidnapping took place on Monday shortly after 1 a.m. at an upscale restaurant called La Leche in the resort town of Puerto Vallarta, Jalisco.
It's worth noting that both reports were based on statements from the authorities.