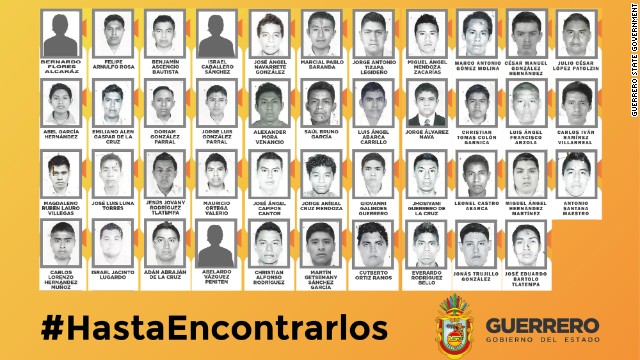 The team of specialists sent by the Inter-American Commission on Human Rights to investigate the 2014 disappearance of the 43 students
is expected to report Sunday that the government's version of the event isn't true but that they were unable to verify the fate of the youths,
so they are leaving.
Let that sink in for a moment.
The head of the human rights division at Mexico's Attorney General's Office and the Attorney General both resigned under pressure over the investigation of the kidnappings and murders of the 43 students.
The investigators arrived early last year and issued an interim report in September that challenged the government's conclusions.

The independent investigators say that the government's account of the events were based in part on confessions apparently extracted by torture. Because of the lack of cooperation from Mexican authorities, the international team was unable to determine the fate of the students, several people close to the investigation said.
As I have mentioned earlier, the criminal conviction rate in Mexico is 1.8%. The odds of this case ever being solved are close to zero.
RELATED:
Donald Trump serves a useful distraction,
Mexico's Self-Image Problem (emphasis added)
The Interdisciplinary Group of Independent Experts, whose work has led to high-profile prosecutions against the Colombian military, a Guatemalan dictator and American oil companies, not only provided the most chilling account of what the students had suffered one night in September 2014, but it also showed that the Mexican government had, at the very least, badly mishandled the investigation, and quite possibly attempted a cover-up.

As reported by The New York Times, the panel described a night of "confusion and terror," with police officers using an official communications system to monitor a caravan of buses loaded with undergraduates. A bus driver recalled police officers pointing a gun at the students, saying, "We're going to kill all of you."
One of the group's theories was that the students had unknowingly boarded a bus loaded with drug traffickers' heroin. To help the traffickers get their drugs back, the authorities set up roadblocks to intercept the buses, then shot at them.

Panel members expressed deep frustration that they were unable to get to the bottom of this hypothesis or others because of stonewalling and foot-dragging by Mexican authorities. They also accused the government of being suspiciously silent during a vicious media campaign seeking to discredit their work.

Government officials appear to be more concerned with Mr. Trump's sweeping statements about their country and its people — among them, referring to Mexicans as "rapists." These are, of course, unfounded and offensive. But how can Mexico's image really improve when its leaders fail to demonstrate some level of commitment to ending the abuses and impunity that matter most to its own people?