Simon Wilson reports,
Venezuelan government's abuses are laid bare in new Human Rights Watch report
It will not come as too much of a surprise however that, out of all the governments in the region, it is the Venezuelan government that has been subject to HRW's strongest criticisms. The American NGO cites accumulation of power under the executive and a lack of judicial independence as factors contributing to a serious erosion of human rights and a culture of state impunity running rife in the country.
Leopoldo Lopez is not the only one persecuted,
Worryingly however, it is not just high profile political leaders who are subject to the scrutiny of the authorities. The report highlights just how much the National Bolivarian Intelligence Service (SEBIN) has become an ominous presence in the life of any Venezuelan who dares criticize the government publicly. Cases cited include the detention of a doctor for criticizing medicine shortages on television and an engineer who was quoted in a newspaper criticizing government energy policies.
Wilson points out that
44 percent of the nation's operating rooms were reported as non functional and 94 percent of labs lacked the necessary materials to perform operations.
Medical supplies and prescription drugs are in such short supply that by now Not Even Social Media Can Find Medicine in Venezuela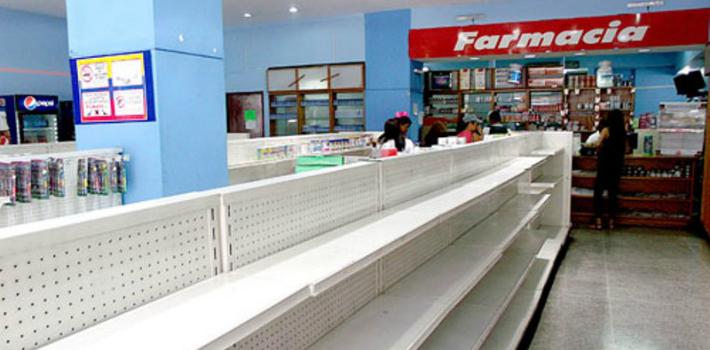 Besides the lack of basic foods, shortages in Venezuela have critically affected health-care products as well. Approximately 70 percent of essential medicines, and 80 percent of medication for chronic diseases, are disappearing from store shelves, putting millions at risk, according to the NGO Codevida.

This is why Venezuelans take to social media, especially Twitter, to see if a charitable soul either has or knows someone who sells a particular medicine. However, even this desperate strategy is no longer working.
Health minister Luisiana Melo claims that
the shortage was due to Venezuelans "irrationally consuming medication."
Melo also blames the toothpaste shortage on the insistence evil-minded dentists and savage capitalism that people brush three times daily, "when once is more than enough."
All the above goods are heavily regulated by the government.
Miguel Octavio found one place where you can pay a premium for goods that are not regulated by the government:
The market has changed, not only because it moved next door to a more modern building while Leopoldo Lopez was Mayor in 2008, but also because its nature has changed. What originally was created in the 40's to have farmers from the surrounding areas bring fresh produce to sell directly, has now become a place to find what you can not find elsewhere. At premium prices, of course. But it does retain some of the original flavor, as produce remains its strength and since most produce is not regulated you can still find lots of good stuff there. (By the way, the webpage of the market ignores its previous history, only talking of the market from 2006 on, which is truly a pity)

The market has changed so much, that twenty years ago, I would go Sunday mornings because it was mostly empty (It opens from Thursdays to Sunday), but you would not necessarily find everything, most of the stuff had been sold. Today, Sunday are as bustling as any other day and what you can not get is likely due to its scarcity. The market has become so popular to look for scarce items, that even at noon on Sunday its still full.
In brief, the more the government controls, the less free its people are.
Related (via NV),
Matt O'Brien: Venezuela is on the brink of a complete economic collapse
UPDATE
Linked to by the Daily Gator. Thank you!