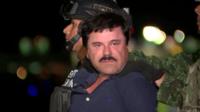 Two big stories this week:
El Chapo's now in the same jail as he dug the tunnel from last year when he escaped. What could possibly go wrong?
ARGENTINA
Argentina's new government says it will press claims to Falkland Islands. Buenos Aires demands talks over future of disputed territory dashing hopes that Mauricio Macri will offer more conciliatory approach than Cristina Kirchner
BOLIVIA
Evo Morales forces nurses to wear veil at Iran-financed hospital: Denuncian que obligan a usar velo a enfermeras
BRAZIL
Squeezing the poor: Bus-Fare Protests in Brazil Turn Violent. Seventeen people were arrested in São Paulo as protesters rioted against an 8-cent increase in bus and subway fares.
Brazil Inflation Reaches Highest Level in 13 Years. Consumer price inflation in Brazil increased last year to the highest rate in 13 years, underscoring one of the main challenges facing Latin America's largest economy.
Rio planned Olympic-scale sewerage project. But citizens say no thanks. Rio's mayor says that the network is an Olympic legacy. So why have so few people connected to it?
CHILE
Chicken Price-Fixing Charges in Chile Send Cencosud Tumbling
COLOMBIA
#DerrocheHistórico pic.twitter.com/oaJPmXk2DY

— Julián Buitrago (@julianbuitragoa) January 7, 2016
Is Colombia Really Safe? A Firsthand Look.
CUBA

Congress Knew About Hellfire Missile in Cuba, A Year Ago
Cuban political prisoner Vladimir Morera Bacallao ends hunger strike 'against his will'
Dems on parade, In Cuba, Gov. McAuliffe touts his state's pork, wine — and seaport. Va. leader is outraged to learn pork is trucked from his state to Florida before being shipped to Havana
ECUADOR
TRENACO SA: unknown Swiss outfit bags $20bn contract from PDVSA. Read the article to find out why Ecuador.
GUANTANAMO
Ghana falsely claims 2 former Guantanamo detainees were 'cleared of any involvement' in terrorism
HONDURAS
Search on for 'City of the Monkey God'. The President of Honduras, Juan Orlando Hernandez, says scientists plan to explore a jungle site where they believe a mysterious ancient city is hidden.
IMMIGRATION
More African and Asian Migrants Are Arriving in Mexico After Long Latin American Journeys
Ismael paid a man in Kenya $5,000 dollars for a fake passport, a plane ticket to Brazil and introductions to a spidery network of human smugglers that eventually got him to Tapachula and the Hotel Palafox.
Disclosure: Another 41 Foreign-Born Individuals Snagged On Terror Charges. Obama administration withholds details as more attacks occur
JAMAICA
Jamaica homicides jump 20 pct, to highest level in 5 years
MEXICO
No 'Mission Accomplished' In Mexico Till Chapo Is Supermaxed
A new UCLA study shows that Guzman's drug war has taken so many lives that it's reduced Mexican lifespan expectations by six months, with the worst declines in the states where Guzman operates.
Yet a Facebook commenter said that Mexicans consider the news as a way for Peña Nieto to create a distraction from the poor economy.
PANAMA
How Panama and Mexico Help Potential Terrorists Reach the U.S. Border
PARAGUAY
More soccer scandals, Paraguay to send documents seized in CONMEBOL raid to US
PERU
Sex, surgery and HIV: Living in the shadows, the secret struggle of Peru's transwomen who sell their bodies… and may be dead by 35
PUERTO RICO
Puerto Rico Defaults on $37 Million in Debt.
The defaulted debt corresponds to $35.9 million in bonds issued by the Puerto Rico Infrastructure Finance Authority and $1.4 million in Public Finance Corp. bonds
Staying Clear of Puerto Rico Bonds
Gimme, gimme: Puerto Rico Pleads for Congressional Help as Lawsuits Are Filed
Puerto Rico faces first lawsuit over US territory diverting funds to meet bond payments
The lawsuit filed late Thursday by Assured Guaranty Corp. and Ambac Assurance Corporation claims the government violated the U.S. constitution by diverting tax revenues meant to back certain bonds and used them instead to finance general obligation bonds, which have higher priority.
URUGUAY
Marijuana tops list of drugs seized in Uruguay, gov't says
VENEZUELA
Santero Economists Take Over Economic Policy In Venezuela
Removal of Chávez Images From Venezuela Capitol Raises Tension