The Greek ambassador to Brazil, Kyriakos Amiridis, age 59, had been missing since Monday night.
Police investigate disappearance of Greek ambassador in Rio. Authorities analyzing corpse found inside what is believed to be missing diplomat's rental car
Brazilian police investigating the disappearance of the Greek ambassador to Brazil, Kyriakos Amiridis, suspect a charred body found inside a rental car could be that of the ambassador. Amiridis, 59, was spending his Christmas holidays in Rio de Janeiro but has not been seen since Monday night, when he was last spotted driving his rented Ford Ka in the suburb of Nova Iguaçu. His Brazilian wife informed the police of his disappearance two days later.
. . .
Nova Iguaçu, a city connected to Rio, where Amiridis's wife has a family home and where the car was found, is not a traditional destination for tourists. It has a population of around 800,000 and is one of the 13 cities that make up the Baixada Fluminens, a violent territory where paramilitary groups and drug dealers operate with certain impunity.
O Globo (link in Portuguese) reports that the police have identified the body as that of Ambassador Amiridis. Investigators have requested the arrest of Mrs. Amiridis, Françoise de Souza Oliveira, her alleged lover, military police officer Sergio Gomes Moreira, Jr., and two unnamed accomplices.
According to the police, Ambassador Amiridis was murdered at his home, his body was removed from the house at 3AM Wednesday morning and placed in the car he rented on December 21, where it was found burned yesterday below an underpass.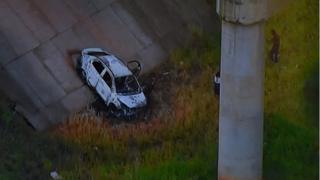 Amiridis was Greek consul-general in Rio from 2001 to 2004 and became Greek ambassador to Brazil in January of this year.
UPDATE:
Globo TV reported on Friday afternoon that officer Sergio Moreira, 29, confessed to killing the ambassador on Monday night. Police have not yet confirmed this new information.