What makes a "malgoverned space"? According to R. Evan Ellis,
The defining characteristic of a malgoverned space is that the ability of the formal authority
to enforce its laws and regulations, and the possibility of residents to rely on those authorities
and the formal legal system to protect their property and physical well-being there is severely
curtailed
The Dictionary defines failed state as (emphasis added)
a nation in which the government has lost political authority and control and is unable to fulfill the basic responsibilities of a sovereign state.
Venezuela is now veering on the edge.
For instance (via Instapundit), Livid over crime, some Venezuelans resort to mob justice
The Venezuelan Observatory of Violence (OVV), a non-governmental organization, estimates there were 40 cases in 2014 of lynchings, usually defined as extrajudicial killings by mobs.

The Observatory does not yet have figures for 2015, but a Reuters tally of media reports shows that in the last month alone there have been over a dozen mob-led beatings or lynchings.
Not surprising in a country where Venezuelan Officials Suspected of Turning Country into Global Cocaine Hub. U.S. probe targets No. 2 official Diosdado Cabello, several others, on suspicion of drug trafficking and money laundering.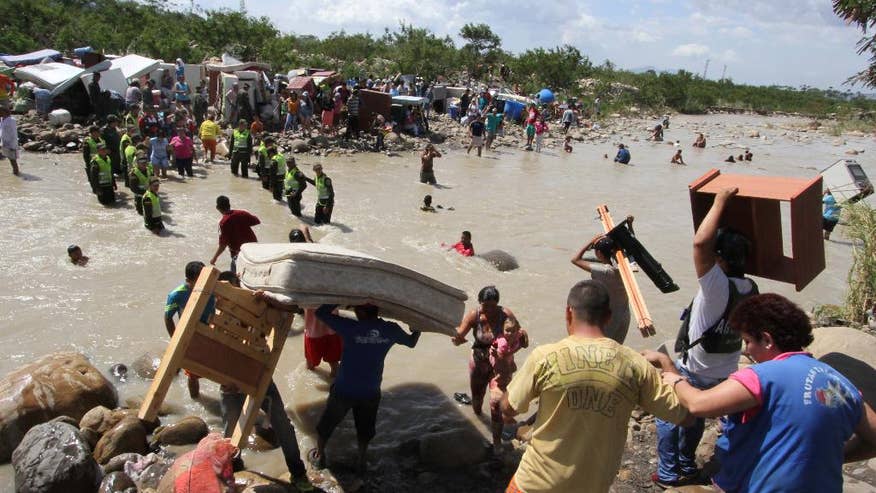 The government has created a border crisis with Colombia and accusing enemies in Colombia of trying to assassinate him, while
The word is taking its time in condemning the regime abuses on the Colombians it unjustly expels because they are mesmerized by the fact the regime is seriously wanting them to believe that these scared house wives wading dirty water are the cause of all of Venezuela trouble.
The pretext for the border crisis is bachaqueo (arbitrage) which the Venezuelan regime blames on poor Colombians living at the Venezuelan border town,
Bachaqueo is an activity that, until recently, was nothing more than the geographical arbitrage of gasoline. Over the years, Colombia has always had higher gasoline prices, not only because its price has always been at international levels, but also because it imposed higher taxes than Venezuela on it. Meanwhile, on this side of the border, gasoline has always been cheaper at the wholesale level, because Venezuelan politicians have always set the price below international prices. There has always been a feeling that this was some form of "birth right".
This crisis is manufactured by the Venezuelan regime, in economic and political ways. The WaPo editorial board believes that
Venezuela's populist government appears headed toward a major defeat in legislative elections scheduled for December, if the vote is free and fair.
I have no reason to believe that the December vote will have any chance at all to be "free and fair" in any meaning of the words, but when it comes to this border crisis,
Sadly, the Organization of American States has proved unable to address this outrage: Venezuela's allies, including Caribbean countries it has supplied with discounted oil, on Monday blocked a motion to convene a foreign ministers' meeting on the expulsions. The Obama administration, which has recently pursued a diplomatic dialogue with the Maduro government, has limited itself to a tepid expression of "concern" about the "worsening humanitarian situation."
Not surprisingly, Venezuela rejects US' 'interventionist' offer to help solve Colombia border crisis.
Mr. Maduro's go-to boogeyman has been the United States, which he's accused of working underhandedly to oust him from power. But as relations between Washington and Caracas have marginally improved, Mr. Maduro has chosen to deflect attention from the country's problems by picking unnecessary fights with his neighbors. Earlier this year, he reignited a long-dormant territorial dispute with Guyana after learning that Exxon Mobil had discovered offshore oil reserves in Guyana's waters, asserting a right to as much of two thirds of Guyana, a tiny country of roughly 800,000 people.
Maduro is following a long tradition of stoking nationalist fervor, but, as the NYT points out,
Further alienating his neighbors will only deepen Venezuela's many problems.
And those problems point the country in the direction to failed state.