Food lines in Venezuela are getting worse
Shortages have reached the point where people are rioting for food. Here's a roundup: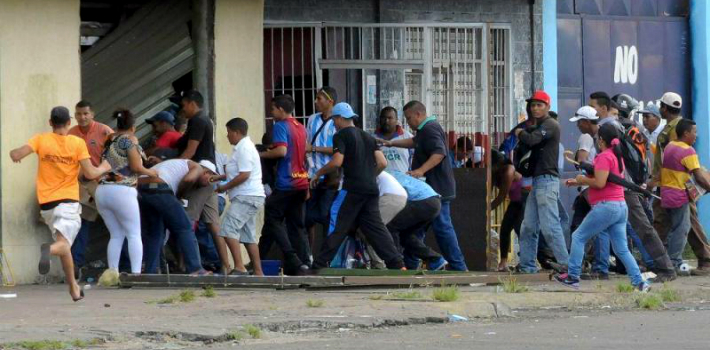 Looting Sweeps Venezuela as Hunger Takes Over132 Incidents Tell of "Desperation and Discomfort" Sinking In
During the first half of 2015, the Venezuelan Observatory for Social Conflict (OVCS) registered no fewer than 132 incidents of looting or attempted looting at various stores throughout the country. In addition, Venezuelan consumers staged over 500 protests that condemned the lack of available products at state-run grocery stores, markets, and pharmacies
Death In Venezuela: Food Fights
Food riots and looting in Venezuela Friday left one person dead and exposed the combustible nature of the country's imploding economy.


Bloomberg News
Venezuelan soldiers seized a food distribution center in Caracas, Venezuela, July 30 rented by global companies including Nestle, PepsiCo and Empresas Polar.

A day earlier, Venezuelan soldiers took over a food distribution center in Caracas, rented by companies including Empresas Polar, Nestle(NSRGY) and PepsiCo (PEP), Bloombergreports. The industrial real estate is to be converted to subsidized housing — a crowd-pleasing government effort ahead of December elections. But the move followed months of accusations by President Nicolas Maduro that Polar, Venezuela's largest private employer, is working to sabotage the economy. The company denies this, Voice of America reports. Maduro claims the U.S. is to blame for food shortages and warehouse looting, Al Jazeera reports.
A Not So Subtle Change In Venezuela
. . . the two most significant factors are the rate at which prices are moving up (previous post) and the ease with which angry mobs (above) have decided to loot and riot at the smallest excuse. Yes, the problem is the Government controls the media and few people see what is going on, but the looting is taking place in traditional Chavista strongholds. And they don't occur because people are fed up of lining up to get something, they take place because people are fed up of standing in line and getting nothing: Neither bread, nor Harina Pan, nor diapers, nor contraceptives. It used to be a moment of triumph to find something, now the moments of victory are few and far between.

And every day, there is a new item that can´t be found, last week, as I was visiting, it was bread and toothpaste. Great for my diet, no sandwiches for the Devil! Nor Cachitos, nor bombas, nor palmeras.

We are talking serious scarcity here!

Like there are also no Bills to pay things for. Despite an 80% increase in monetary liquidity (M2), the largest Bill is still Bs. 100, US$ 15.9 at the official rate, 50 cents at the Simadi official rate, but a scant 14 cents at the parallel rate.
These days, if you're looking for reasons to be alarmed about Venezuela you're spoilt for choice. But if I had to pick one, just one signal that's freaking me the hell out right now, it has to be the government's dogged refusal to issue larger denomination bank notes.
Venezuela should have been rich what with being the "12th largest oil producer in the world … and a beneficiary of the most sustained oil price boom in history". Instead it is flat broke. It's currency, the Bolivar is worth 1% of its official rate on the black market and 1/1000th of what it was before Hugo Chavez assumed power.
Venezuela is basically bankrupt again, and will continue being,
. . .the government doesn't just decide who gets cheap dollars, but also how much they and everyone else can charge. Companies that don't get dollars at the official exchange rate would lose money selling at the official prices, so they don't—they leave their stores empty. But even ones that do get low-cost dollars would make more money selling them in the black market than using them to sell goods at the official prices, so they don't as well—their stores stay just as barren. In other words, it's not profitable for unsubsidized companies to stock their shelves, but not profitable enough for subsidized ones to do so, either. That's why Venezuela's supermarkets don't have enough food, its breweries don't have enough hops to keep making beer, and its factories don't have enough pulp to produce toilet paper. That's left Venezuela well-supplied with only one thing: lines.
SOCIALISM CRUMBLES IN VENEZUELA, BUT DEMOCRATS THINK IT'S A GREAT IDEA