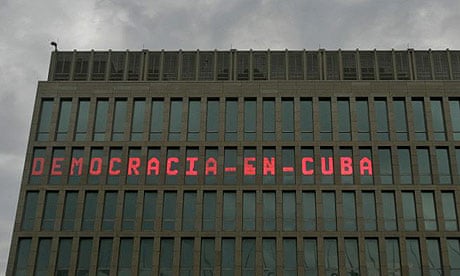 David Feith tells the story behind the U.S. Embassy's ticker in The Bare Flagpoles of Havana
Before Obama restored ties to Cuba, he ended an inventive U.S. effort to promote freedom.
Victor Davis Hanson on Obama: Earning Contempt, at Home and Abroad
The Castro brothers just upped their rhetoric, as Fidel demanded millions of dollars in embargo reparations as part of President Obama's "normalization" of relations with Cuba — apparently to remind the world that the Cubans have no intention of paying back the billions of dollars they confiscated 55 years ago in American capital and property, much less of easing up on human-rights activists. Why would the Castros do that at this point, when no American president in a half-century has been more deferential to their Stalinist government? Is their defiance cheap public grandstanding for the benefit of Cuban hardliners, or a more natural reaction known to benefactors and beneficiaries alike as something like the following: "If he gave a wretch like me something for nothing, then he either did not deserve what he had or he should have given me even more"?
Indeed. When Cuba's Minister of Foreign Affairs Bruno Rodríguez Parrilla brazenly lied about Cuba and insulted the U.S. during their joint press conference, Kerry stood there like patience on a statue and took it (starting at 12:15 in the video. The video is from Jaime Bayly's show last Friday. Bayly was incensed.)
My translation:
"Cuba is not a place where there is racial discrimination, police brutality, or where deaths occur from these issues. Neither is under Cuban jurisdiction the territory where people are tortured or held in legal limbo."
At 13:07, continuing my translation,
"I have asserted to the Secretary of State that lifting the embargo, in our opinion, is essential for having normal relations with the United States, along with returning the territory usurped from our country and [sic] at the naval base on Guantanamo Bay. Likewise, we find it necessary to further the subject of compensation to the Cuban citizens, for human damages and for the economic losses brought about over more than five decades."
John Kerry obviously knows enough Spanish (earlier in the video he reads his speech quite well) to understand what Rodríguez was saying, never mind that he has simultaneous translation in his earphone: There was no getting around the fact that Cuba is not only not giving an inch, it's asking for more.
In two words: shameful spectacle.
Thus, in hindsight, after seeing the moral mediocrity — with the exception of three U.S. Marines — that populated the Embassy's courtyard on Friday morning, it was clear that no one there was worthy of the presence of Cuba's courageous dissidents.
Eliott Abrams on Kerry in Cuba: More Interested in Cigars Than Dissidents.
Priorities, priorities.