Taking time out from Latin American news stories to look at a news item that illustrates one more instance of government overreach:
Edificio España is a 25-floor, 384′ high building that took 5 years to build, and at the time of its inauguration in 1953 was Europe's tallest hotel, office and apartment building. If you are in Madrid, you can't miss it.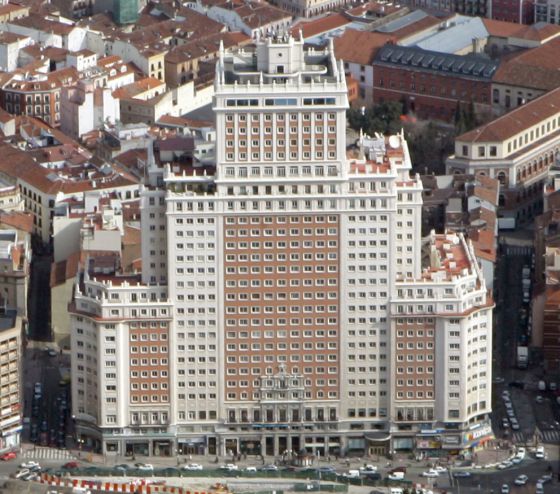 It has been vacant since 2007.
Last year the Chinese real estate conglomerate Dalian Wanda Group bought it for €265 million from Banco Santander, who had paid constructor Metrovacesa €389 million. Under the deal,
the city allowed the proprietor to tear down part of the 25-story structure but stipulated that the façade and side wings should remain intact.
Dalian Wanda proposes tearing down the whole thing, and rebuilding
the façade to make it look exactly the same again, using similar materials that comply with modern building standards.
But noooo! (emphasis added)
The request was not well received in Madrid City Hall, now in thehands of a leftist bloc named Ahora Madrid after a quarter century of conservative rule by the Popular Party.
. . .

Local government sources have told EL PAÍS that the department of city planning will instruct Dalian Wanda to maintain as much of the main body of the building as necessary to prop up the façade, which may not be demolished in any case.

The company, which is chaired by Wang Jianlin, China's richest man according to Forbes magazine, says that "the consolidation of the façade is not viable under safe conditions. There are no prior references or similar experiences relating to maintaining a structure of similar height and dimensions, which additionally lacks bearing capacity."
To which City Hall found a former head of the Madrid Professional Association of Architects and a university professor who teaches structure calculus, who compared tearing down the building while preserving the façade with putting a man on the Moon,
But if we've been to the Moon, there's almost nothing that is technically impossible.
Last time I looked, Spain didn't send anyone to the Moon, but you can be sure any foreign investors thinking of doing business in Madrid (with an unemployment rate of 17.53 % in 2014) will be looking elsewhere.
In the meantime, Dalian Wanda is left holding the bag.