Pope Francis took the Communist crucifix home (h/t 1P5, emphasis added),
I understand this piece and I did not find it offensive. I carry it with me. I left the decorative honours which President Morales gave me behind… I have never accepted such decorations but Morales acted in good faith, to please me, so I thought of it as coming from the people. I prayed it over and I thought I would leave them with Our Lady of Copacabana, so they go to the shrine. The wooden Christ I took with me."
I had mistakenly reported that he had left the blasphemous item behind, along with the medals Evo Morales awarded him.
The Rev. Robert Gahl, a moral theologian at Rome's Pontifical Holy Cross University in Rome is even talking of a "potential for dialogue and even synergy," with Communism.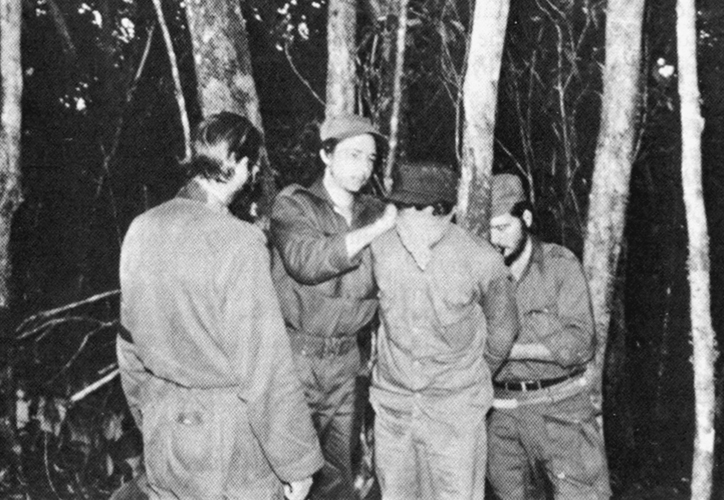 Raul Castro blindfolds a man he's about to execute, signaling a "potential for dialogue and even synergy."
Which brings me to the next headline:
Pope Francis Downplays Human Rights in Cuba, Reveals Obama Misled
Here is Pope Francis' reply to the issue of human rights in Cuba:

"Human rights are for everyone. And human rights are not respected not only in one or two countries. I would say that in many countries of the world human rights are not respected. Many countries in the world .. and what will Cuba lose or the U.S. lose? Both will gain something and lose something, because this happens in negotiations. Both will gain, this is sure: peace, meetings, friendship, collaboration. These they will gain … but what will they lose, I cannot imagine. They may be concrete things. But in negotiations one always [both] wins and loses. But returning to human rights, and religious freedom. Just think of the world. There are some countries and also some European countries where you cannot make a sign of religion, for different reasons, and on other continents the same. Yes. Religious liberty is not present in all the world, there are many place [sic] that do not have it."
At the same time, Francis says the Cuba negotiations were God's work, and he didn't mediate,
There was no mediation. It was the goodwill of the two countries, and the merit is theirs for doing this. We hardly did anything, just a few small things.
It's enough to make the guys at Babalu beg for mercy.
But wait! There's more!
Francis now wants to help with the Colombian peace process.
As Peter Lynch said,
Sometimes it's darkest before the dawn, but then again, other times it's darkest before pitch black.
Related:
The new Perfect Latin American Idiot.
UPDATE
Dennis Prager:
When the pope keeps a hammer-and-sickle crucifix; when the pope declares free-market capitalism, the one economic system that has lifted masses of people out of poverty, to be largely evil ("the dung of the devil"); when Cuba's Cardinal Jaime Ortega declares that there are no political prisoners in Cuba; and when the pope issues an encyclical on global warming while the oldest Christian communities in the world are exterminated, it is clear that while one can still turn to individual Catholic priests and lay leaders for moral guidance, one cannot turn to the Church and its pope for moral guidance. On the contrary.