In yesterday's post, Cuba: What next?, I posited,
I have been predicting for quite a while that the Obama administration's next goal regarding its foreign policy on Latin America is to gift the Guantanamo naval base to the Castro's communist regime.
Rep. Jeff Duncan (R-SC) explains the consequences this will have for America:
Aside from further demonstrating weakness, relinquishing the base at GTMO would be a strategic misstep of epic proportions for the United States. It would have significant national security and military implications. GTMO is the oldest overseas U.S. naval base and only permanent U.S. defense base in the region. Its location enables U.S. forces to maintain full advantages across a wide spectrum of military operations. It plays a critical role in migrant operations assistance missions and is a logistics center for U.S. ships and aircraft, allowing these assets to maintain tactical advantages and freedom of movement in strategic waters in a region with limited U.S. military presence.

If Castro achieved control of GTMO, what would happen? The all-too-obvious answer is that it would allow him to extend an invitation to one of the close allies of Havana, such as the Putin regime in Moscow or the mullahs in Tehran. If any of the actors interested in taking over the lease of GTMO does move into the warm Cuban waters off Florida's southern coast, this would provide a direct military threat to the U.S. homeland. Consider for a moment the depth of waters and potential ability for nuclear submarines to conduct intelligence operations or worse.

Two years ago, the Russian Defense Minister stated that Russia wants to build military bases in several countries in the Western hemisphere, including Cuba. Press reports of Russian intelligence ships operating in the waters around Cuba, most recently earlier this year on the eve of U.S. talks with Cuba in Havana, prove that Russia is deadly serious about making good on those intentions.
Duncan does not exaggerate; Last year Russian Defense Minister Sergei Shoigu stated that Russia is planning to expand its permanent military presence outside its borders by placing military bases in a number of foreign countries:
the list includes Vietnam, Cuba, Venezuela, Nicaragua, the Seychelles, Singapore and several other countries.

"The talks are under way, and we are close to signing the relevant documents," Shoigu told reporters in Moscow.

The minister added that the negotiations cover not only military bases but also visits to ports in such countries on favorable conditions as well as the opening of refueling sites for Russian strategic bombers on patrol.
Duncan continues
Remember what Russia is doing in its own neighborhood for a moment. Vladimir Putin brazenly acted to annex the Crimean Peninsula, ignoring the international outrage, and Ukraine is worried about a "full-scale" Russian invasion. If the U.S. gave way on GTMO, Putin would likely welcome the opportunity to have warm-water lodging for his navy only 90 miles from the United States.
And let's not forget Iran,
Similarly, Iran continues to test the patience of the international community with its nuclear operations and refusal to cooperate with international inspectors. If things go badly for Iran with any nuclear deal, having a deeper presence in Latin America through Cuba offers Iran options for retributive action should they want it.
Dr Ely Karmon, in his report Iran in Latin America: President Rouhani's Era points out,
On April 30, 2014, the State Department issued its Country Reports on Terrorism 2013, which stated that "Iran's influence in the Western Hemisphere remained a concern," but that "due to strong sanctions imposed on the country by the United States and the European Union, Iran has been unable to expand its economic and political ties in Latin America."[2]
Whether Iran gets what it wants on the nuclear deal (which it does) or not, by lifting sanctions, the U.S. has given Iran every incentive to continue its ongoing economic and political expansion into Latin America. You can expect that making a deal with the Castros on Gitmo is part of their plans.
Related:
1. The Deal Wasn't About Iran's Nukes
The administration readily caved on Iran's nukes because it viewed the matter only as a timely pretense for achieving other cherished aims. These were: (1) preventing an Israeli attack on Iran; (2) transforming the United States into a more forgiving, less imposing power; (3) establishing diplomacy as a great American good in itself; (4) making Iran into a great regional power; and (5), ensuring the legacies of the president and secretary of state as men of vision and peace.
Items 2-5 will play well with that Gitmo gift.
2. Raul Castro calls for new Cuba-US relationship (emphasis added)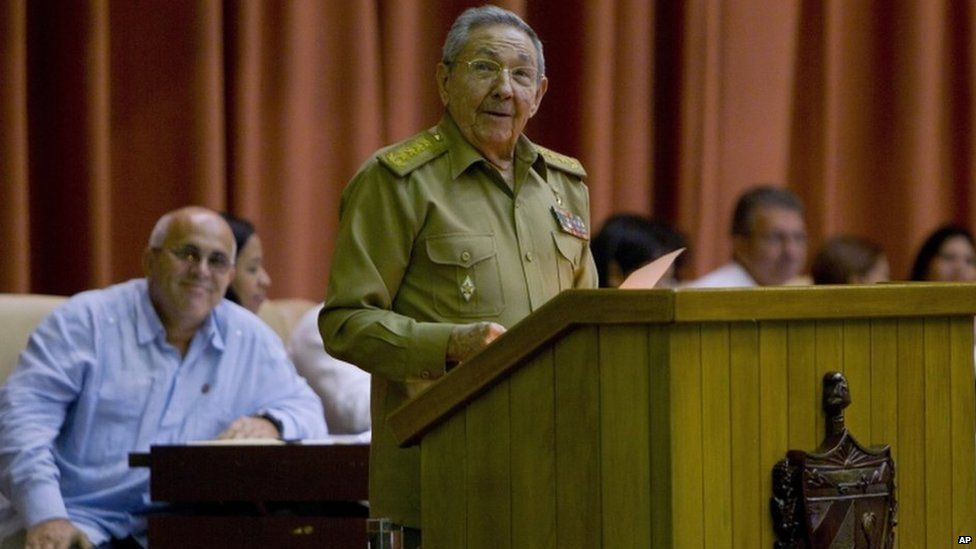 In a speech to the National Assembly, Mr Castro said that, for normal relations to resume, a US embargo on Cuba would have to be lifted.

He also called for the US naval base at Guantanamo Bay to be returned to Cuba.
The die is cast, now we just wait for it to roll.