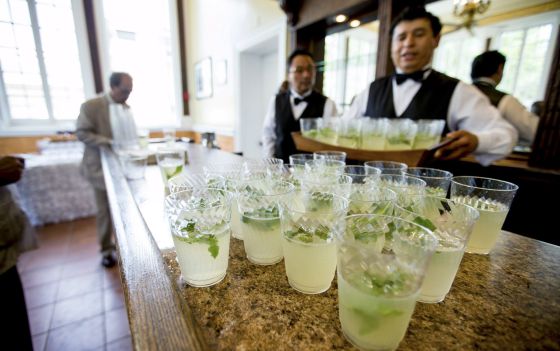 Just what we needed:
'Mojito diplomacy' as Cuba reboots US relations in reopened embassy
Guests toast inauguration of island's new Washington mission inside its 'Hemingway' bar
Just like Hemingway's favorite Havana hangout, a small but attractive bar had been set up nearly four years ago in one of the rooms at the Cuban embassy to liven up breaks between the many closed-door meetings held with political scientists and activists there.
Is "political scientists and activists" the current euphemism for operatives of the Communist regime?
But back to mojitos, here are the ingredients:
Depending on who you believe, the mojito either came from the Spanish word 'mojar', which means to wet, or the African word 'mojo', which means to cast a spell. Anybody who's ever tasted one will agree that it's thirst quenching and spellbinding in equal measures.
INGREDIENT
2 parts BACARDÍ Superior rum
4 lime wedges
12 fresh mint leaves
2 heaped tsp of caster sugar
1 part soda water/club soda
Sprig of fresh mint to garnish
METHOD
Gently press together the limes & sugar. Bruise the mint leaves by clapping them between your palms, rub them on the rim of the glass and drop them in. Next, half fill the glass with crushed ice, add the BACARDÍ Superior rum & stir. Top up with crushed ice, a splash of soda and a sprig of mint.
To recap: the new "mojito diplomacy" is all wet, cast under the spell of Communism, aims to stupefy, and is served in a room named after a drunk misanthrope who blew his brains out.
It taxes the brain to think of one good thing about the current embassy openings.
Dissidents in the island-prison could not be reached for comment.
Related:
At Stratfor, Why the U.S. Should Be Wary of Cuba (registration required)
UPDATED
Linked to by Babalu. Thank you!