Readers of this blog may be familiar with Venezuela's colectivos, the government-sponsored marauding motorcycle gangs doing the dirty work, that I've written about in the past.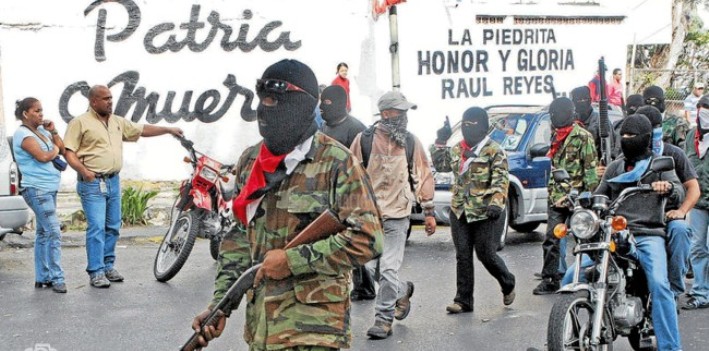 Panampost has an article on how Venezuelan Paramilitaries Wreak Havoc with Cuban, FARC Support
Studies Reveal Colectivos with 10,000 Active Members
Studies released by the Institute for Cuban and Cuban-American Studies(ICCAS) at the University of Miami have revealed that the Cuban regime is training Venezuelan paramilitary groups, including Los Tupamaros, La Piedrita, Simón Bolívar, and Alexis Vive. These groups have killed more than 25 students during protests, and injured over 300.

These studies show that for years the Venezuelan government has sent regime supporters to Havana to learn repression tactics in order to help their leaders stay in power. Furthermore, there is evidence that the Revolutionary Armed Forces of Colombia (FARC), a group designated as a terrorist organization by the US government, also trains these groups on Venezuela's border with Colombia.
Remember Raul Reyes's computer? Not only did it reveal that the Venezuelan government may have had the FARC act as hit men against political opponents, Panampost adds that (emphasis added),
In 2011, the International Institute for Strategic Studies (IISS) in London, on behalf of the Colombian Defense Ministry, conducted an independent analysis of the computers of Raúl Reyes, a member of FARC's Central High Command who was killed in an ambush in 2008. The investigation revealed important intelligence material on the guerrilla, including information that linked senior members of the Venezuelan army with drug trafficking.

The IISS also found evidence of that the FARC had trained Venezuelan colectivos in exchange for the campgrounds Hugo Chávez allowed the guerrilla to establish on the border.
The ICCAS report concludes,
The most troubling aspects of this relationship are the growing drug trafficking and the continuous opposition to U.S. policies. The inclusion of Iran in rounding out this triumvirate, has added a dimension of strategic importance. The proximity of Cuba and Venezuela to the U.S. makes the two countries ideal platforms for anti-American activities, specifically in the event of a U.S. conflict with Iran. These two allies may be called upon to support Iranian policies and objectives.
You can read the ICCAS's Cuba Transition Project report by Pedro Roig below the fold:

Venezuela-Cuba Military Cooperation and the Narco-Terrorist Connection
Related: Was Iran behind the colectivos?