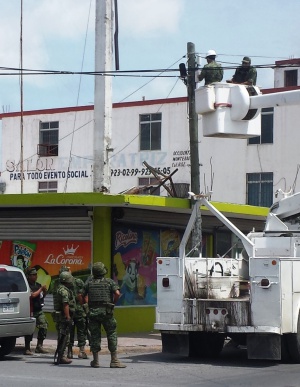 BIG BROTHER from the cartel IS WATCHING YOU in Tamaulipas:
Spain's El País reports on The all-seeing eye of Mexico's cartels
Authorities in Tamaulipas state take down surveillance cameras installed by secret gang (emphasis added)
Recently, police announced that they had taken down 39 hidden surveillance cameras installed by traffickers at key points around the city to monitor movements by law enforcement authorities, rival gangs and ordinary citizens.
. . .
One local cartel – whose name has not been made public – has acknowledged that it set up 38 other cameras to closely follow movements made by the army, navy, police and prosecutors, according to an official statement.
Since the cartel itself has acknowledged it, why haven't the authorities named it? Most likely, it would be either the Zetas or the Gulf cartel,
The region's two most powerful drug organizations, the Zetas and the Gulf Cartel, have long battled for control of Tamaulipas's 17 border crossings to ship narcotics to the north.
Not that these 39 cameras were the first – back in May authorities took down 30 others.