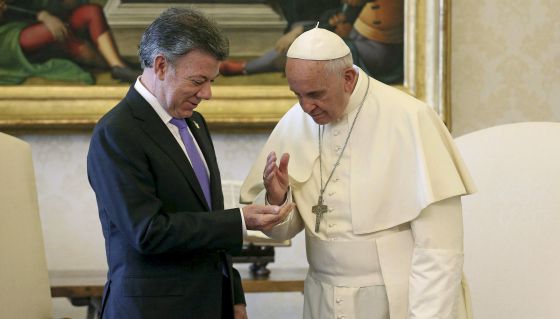 After earning Raul Castro's thanks and praise for brokering the restoration of relations between Cuba and the US, and thereby screwing the dissidents as repression becomes more severe, now Francis wants to meddle in the Colombian "peace process."
During a private audience with Colombian president Juan Manuel Santos, Francis
". . . se mostró enseguida "dispuesto a desempeñar el papel que sea necesario" para poner fin al "más viejo conflicto de Latinoamérica". [My translation: . . . he's immediately "willing to take whatever part is needed" to put an end to "Latin America's oldest conflict".]
"Peace process" is a fluid term, as last week the Colombian military finally killed Jose Amin Hernandez Manrique, known as Marquitos, a top commander from the country's second largest guerrilla group, the National Liberation Army (ELN), a group urging the FARC to continue its war following a surprise FARC attack that killed 11 soldiers.
To his credit, Santos didn't jump at Francis's offer. However, the FARC already thanked Pope Francis for his interest regarding the peace talks.
Why the hell does Francis want to meddle? First with Cuba/U.S., then with the global warming scam, and now with Colombia/FARC?
Is he after a Nobel Peace Prize?
Where did Church doctrine and spiritual matters go?
While a majority do call themselves at least nominally Catholic, Colombia does not have a state religion. The Pope's words carry weight, but only among those who follow him.
Francis is working on the premise that, as head of the Catholic Church, his intervention will carry moral suasion.
Here's the catch: It cannot.
The FARC, the ELN, and any of the other sundry Marxist narco-terrorist groups, have, for half a century, kidnapped, tortured, killed, maimed, raped, stolen from, and perpetrated heinous crimes on their fellow countrymen. They will only go along for as long as, and only if, it serves their purpose. They are immune to moral suasion.
Likewise on global warming, Francis speaks pretty words,
"Enlighten the masters of power and money so that they should not fall prey to the sin of indifference, so that they should love the common good, support the weak, and care about this world that we inhabit,"
Apparently Francis hasn't realized that fossil fuels work for the common good. I highly recommend that he read Alex Epstein's The Moral Case for Fossil Fuels which makes a convincing case that fossil fuels are the only way to develop cheap, reliable, plentiful energy for seven billion people, and that it's immoral to deny it to the developing world.
For Francis, the thousands of Christians martyred wholesale by ISIS, the Cuban dissidents, the hundreds of millions relying on the use of fossil fuels, are just window dressing. Now the FARC stands to benefit from Francis's intercession.
But back to Latin America:
Until and unless Francis publicly denounces the role of the Catholic Church in the safe passage of Nazis (among them Josef Megele) into Argentina, his country of birth, as far as I'm concerned, he can STFU.