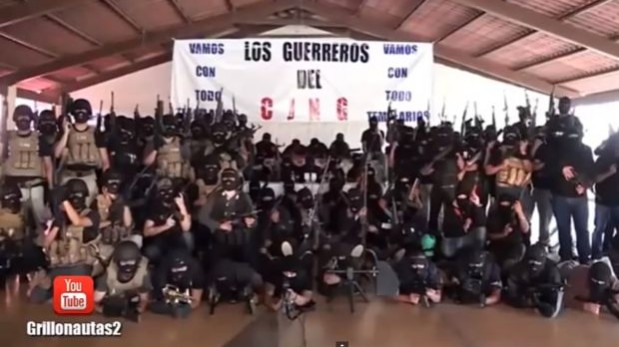 The WSJ reports on the latest cartel, Jalisco Nueva Generación:
Rise of Drug Cartel Brings Wave of Mexican ViolenceArmy hunts for three missing soldiers in Jalisco since helicopter was shot down on Friday
"A new and military powerful cartel is appearing, and opening up a new front in the war against drugs in Guadalajara and Jalisco," said Raul Benitez, a security analyst at the National Autonomous University of Mexico.

The flare-up of violence in Guadalajara, a city of 1.5 million people in a metropolitan area of 4.5 million, and the resort town of Puerto Vallarta is the latest setback for the government of President Enrique Peña Nieto. The government has been determined to show that Mexico is a modern, emerging economy, but its inability to control areas where criminal gangs continue to exert control have frustrated these efforts.

"Guadalajara is not a little town in the middle of nowhere, and this shows the cartel has the logistics and power to paralyze a city," said Jorge Chabat, a security analyst at the CIDE think tank in Mexico City.
. . .
The areas the Jalisco cartel controls sit astride important transport and production centers for cocaine, heroin, methamphetamine and marijuana.
The Jalisco Nueva Generación, who are allies of the Sinaloa cartel, started in 2010 for the purpose of neutralizing the Zetas, according to this report from El Comercio.