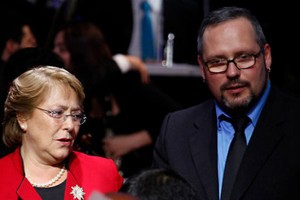 Michelle Bachelet's son, Sebastián Dávalos, who had to resign his post as his mother's sociopolitical director, stands accused of corruption after procuring a US$10 million loan to flip a property the day after she won the second round,
Davalos is accused of promising Bank of Chile executives the government's ear in return for a CHL$6.5 billion (US$10 million) loan for Caval Ltd., a company half-owned by his wife, which previously held assets of under $8,000. The loan was used to purchase land for a housing development that was later sold at a $4 million profit.
Maybe he thought he was related to Bill and Hillary Clinton.
Bachelet insists she will not resign, and, lifting a page from the Clintons, promises she is moving on, to work on behalf of the folks:
Chile's President Vows to Tackle Corruption, Rewrite ConstitutionMichelle Bachelet says overhaul will make political financing 'completely transparent'
The president said the anticorruption measures will be complemented by a new constitution. The government is expected to start work on the new constitution in September, Ms. Bachelet said. The current constitution was implemented during the military dictatorship of General Augusto Pinochet.
This rewrite was a campaign promise; Bachelet intends to use proceeds from the mining industry to pay for propaganda social programs, which currently the Constitution does not allow.
Bachelet's popularity rating is currently 32%. The economy is sliding as investment and growth drop following her tax increases. She's going to end school vouchers.
And Putin's been invited.
What could possibly go wrong?