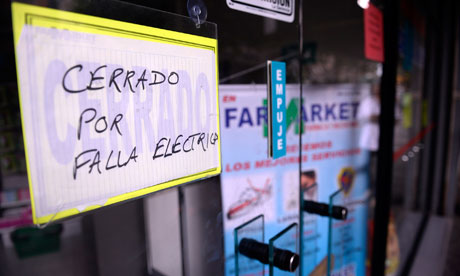 The country with (allegedly) highest oil reserves is starting to ration electricity.
Venezuela to Begin Nationwide Power Rationing
Persistent heat wave causes a surge in demand for air conditioning
Shaky power supply is one of many problems facing Venezuela as the resource-rich South American country reels from an economic crisis and a cash crunch partly due to lower oil prices. Frequent blackouts in the interior of the country have stoked accusations of mismanagement and insufficient power grid investment by the government, which nationalized the electricity sector under the late leftist leader, Hugo Chávez.

But authorities in Venezuela, which relies on hydroelectric turbines for two-thirds of its power supply, say climate change is to blame.

"This is, of course, linked to global warming and the excessive industrialization of capitalism, which never stops, nor has ever stopped, for the effects that it can have on the climate, on society and on Mother Earth," Mr. Arreaza said.
The blackouts have been going on for a couple of years, but the rationing is new.
Talking from both sides of the mouth, they ask that you get a generator, to use up more Venezuelan gasoline that the government insanely subsidizes to a consumer price of $0.002 a gallon, because, capitalism causes global warming or something,
Vice President Arreaza also made a bizarre call for the use of "autogenerated" electricity to reduce demand on the government's plants. "Both the public sector as well as large [private] consumers should opt for autogeneration," he said in the statement announcing the new plan. "That is to say, that they use their own equipment and plants to generate electricity, especially in peak hours, and not use the National System."
Venezuela is probably netting less than US$20/barrel on its heavy, low-quality oil. It needs oil at $151 a barrel to balance its budget.
Another Venezuelan export, cacao, can't generate revenues because the government cancelled export permits.
Again, Communism doesn't work.